The duty to investigate, the courage to reveal
The truth needs help and that's why Mediapart needs you. Now, more than ever, lies are all around us, serving the vested interests of political and economic powers. Over ten years there have been countless issues of public interest that would never have emerged without our investigative work. For this work to continue, in total independence, we've just one means of support: your subscription.
As summer begins, Mediapart is offering you a special subscription with two free months of independent and participative journalism (see here). But this year the context is different. From the populist fiction daily stage managed by Donald Trump (see Mathieu Magnaudeix's take on it here) to the top-down monarchist style that has been completely embraced by Emmanuel Macron (read Ellen Salvi's article here), we have entered a new political era where something is only true when the government decrees it to be so (read the analysis by Christian Salmon here). Amid an overload of communication, in which instantaneous social media networks are jam-packed and polluted motorways, obscurity is gaining the upper hand like a shadow which is gradually blocking out the ability to understand the world.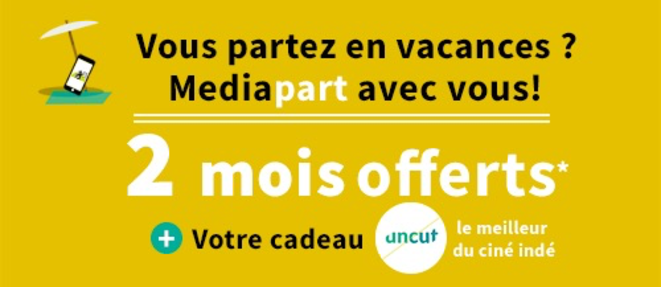 Mediapart's special offer for the summer of 2018.

Under a cloak of modernity, it is a culture of the Ancien Regime that is returning with a vengeance. During the international symposium on truth in the digital era, which was organised in March this year to mark our tenth anniversary, Roberto Scarpinato, a specialist anti-Mafia judge and Attorney-General at the Court of Appeal in Palermo, reminded us how "the secret and the lie are incompatible with democracy". He said: "The difference between democracy and autocracy resides in the relationship that they have with secrets. Democracy is the government of visible power: public government in public. In an autocracy secrets are the rule, while in a democracy secrecy is the exception, when reasons of state demand it, and even in that case it must be supervised by the visible authority."
The rapid tweets fired out by Trump or the viral videos put out by Macron (see Dan Israel's article here) are not instruments of communication but of concealment. They hide by lying, they conceal by parroting caricatures. Recycled by the arrogant cynicism of a wheeler-dealer and mercenary age, they are the modern versions of the advice that Cardinal Mazarin gave to Louis XIV: "The throne is captured by swords and cannons but is held by dogmas and superstitions."
Better still, they are modern versions of what that intellectual of reactionary conservatism, Joseph de Maistre, had stated with some foresight when faced with the egalitarian ideals of the French Revolution. "If the governed crowd can believe it's the equal of the small number of those who govern, there's no more government. The government must be beyond the understanding of the governed masses. The government must constantly hold itself above all critical judgement through the psychological instruments of religion, patriotism, tradition and prejudice," he wrote.
"Insulting the truth is the origin of catastrophe," wrote Roberto Scarpinato in his book 'The Return of the Prince'. Faced with those powerful people who, proclaiming themselves to be above common mortals, shut themselves in a fortress of secrecy whose cement is lies, the truth is a battleground. Because it is not based on opinions, fact-based truth is immensely fragile, having neither the force of convictions nor the weight of prejudice. It is a truth which is based on reason, through deduction, cross-checking, research, verification and precision. In short, it is that truth which is predicated upon investigation. Behind this apparently simple word there is patient, detailed, complex and largely collective work, where the truth is demonstrated, found, unearthed, delivered, flushed out …
Making visible that which the powers that be want to remain invisible: that is the work to which the entire Mediapart team is devoted, and which has formed its fundamental identity from the start, at the crossing point of our professional commitment and our democratic ideals. Like Robin Hood, we want to take unjustified secrets from the powerful to give them to all the citizens who have a right to know them. For we are serving a basic right which is more fundamental that the right to vote: the right to know. If I vote without knowledge, without knowing completely and honestly about those things which concern me, I will be voting blind, giving my vote to my worst enemy or my worst misfortune.
Without our newspaper you would thus have known nothing of the Libyan funding affair, that immense scandal of the corruption of a democracy by a dictatorship, over which the former president of the Republic, Nicolas Sarkozy, has been placed under formal investigation, and which we pursued alone for so long, in the face of scepticism from other media. Without Mediapart there would have been no Cahuzac affair under the presidency of François Hollande, that emblematic scandal of tax evasion nor, as a result, would there have been a national financial crimes prosecution unit or the public ethics body the Haute Autorité pour la Transparence de la Vie Publique which were created in the wake of our revelations. Nor, without Mediapart and Martine Orange's investigation, would there be the Kohler affair involving conflicts of interest at the highest echelons of the state which is emblematic of the way public interests have been subordinated to private interests under the presidency of Emmanuel Macron. And if there had been no Mediapart and the work of Marine Turchi, there would have been no revelations about the funding of the far-right Front National and its internal practices.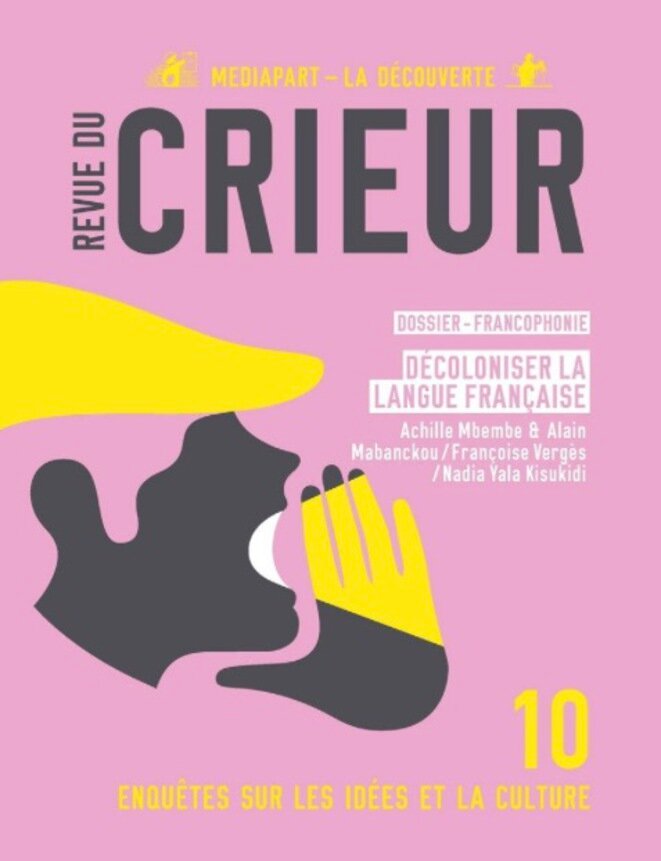 The tenth edition of Le Crieur is on sale in bookshops in France.

To this list should also be added all the revelations on election campaign accounts of all the candidates in the 2017 presidential election, revelations which have only been possible thanks to the stubbornness of Mediapart, led by Mathilde Mathieu. It was our legal action, first at the commission in charge of access to state documents, the Commission d'Accès aux Documents Administratifs (CADA), then the administrative courts, which finally forced the election accounts watchdog, the Commission Nationale des Comptes de Campagne et des Financements Politiques (CNCCFP), to open theses accounts to journalists.
It is a long and far from exhaustive list, given that the culture of investigation is present across all sectors at Mediapart and all our areas of interest, from the issue of money in sport to sexual violence, passing through hardship in the workplace and the ravages caused to the environment by industry. Nor should we forget culture and ideas, to which our review Le Crieur is devoted, nor, obviously, should we overlook the endless stories of financial arrangements and financial speculation in which, too often, the money of sovereign nations gets diverted.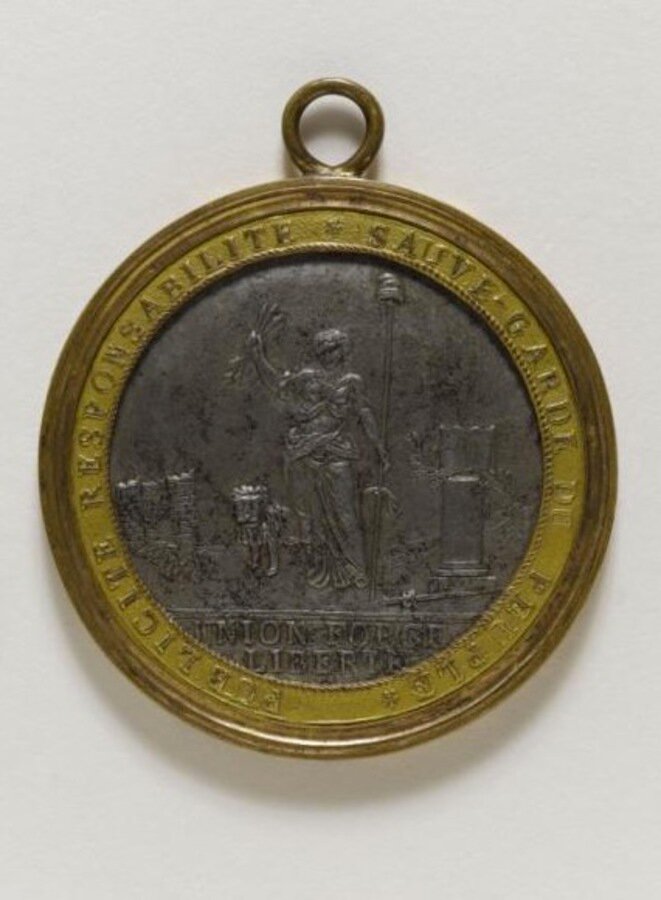 The badge worn by city hall officials in Paris in 1792.
Devoted to general news in the public interest, whether national or international, this unprecedented newspaper, through its editorial ambition as much as its technological medium, has no other objective than to give meaning and life to an old promise that is still relevant. It was made in 1789 on the cusp of the anti-monarchic revolution which founded the French Republic. Jean Sylvain Bailly (1736-1793), who was the first president of the Third Estate (later known as the National Assembly), then the first mayor of Paris, uttered a phrase that has an impressively modern ring about it: "Publicising political life is the people's safeguard." To put it another way, democracy calls for a visible government which reports on its actions, publishes its accounts and which is answerable...The authoritarian Bonapartism which, in the wake of the bloody events of July 1794 known as the Thermidorian Reaction, saved the principle of monarchy of which our presidentialism is the antiquated successor, has made us forget just how popular this demand by Bailly was. In 1792 officials at city hall in Paris, the Hôtel de Ville, displayed it on their metal badge, adding the word "responsibility".
One town in Europe bears witness to this slogan's long democratic lifespan, which is more relevant than ever. It is in the east of Belgium, in a spot not far from Germany, Holland, Luxembourg or France. A French-speaking town, Verviers was also pro-French. In 1830, when Belgium was established as a nation state, the town adopted a motto which is still on the front of its town hall: "Publicity, the people's safeguard." Bailly's slogan is forgotten in France today whereas it remains a symbol for this Belgian town which was one of the richest in the first industrial revolution thanks to its wool mills. Doubtless this choice of words has echoes of the events of the Trois Glorieuses or July Revolution in France of July 1830, which is still commemorated by the column in the Place de la Bastille in Paris. That was a popular revolt in favour of freedom of speech and the right to know, and against Charles X's anti-freedom ordinances, whose modern incarnations are the recent laws on business confidentiality and fake news (see the article by Laurent Mauduit here).
The motto on the town hall in Verviers, Belgium.

It is obviously pure chance, but it is one of those slightly magical "objective chances" beloved of surrealist writers and poets, when reality causes an unexpected imaginary event to happen, an occurrence which is invigorating and stimulating. So it is that since 2016 the municipality of Verviers, a town hit by the economic and social crisis, has adopted some of Mediapart's words to bring back some colour to its walls and, through them, its community life. Without us being involved in any way, one of our manifestos, 'Dire nous' ('Say Us') inspired five great wall frescoes, the last of which has just been inaugurated (see here and here). It was an initiative by one of the town's socialist deputy burgomasters, Malik Ben Achour, with the support of associations and educationalists in order to reclaim an "us" which is not about exclusion or tension, fear or hate, but about common causes in the quest for an equality of rights without distinction as to a person's origins, circumstances, appearance, beliefs, gender, nature and so on.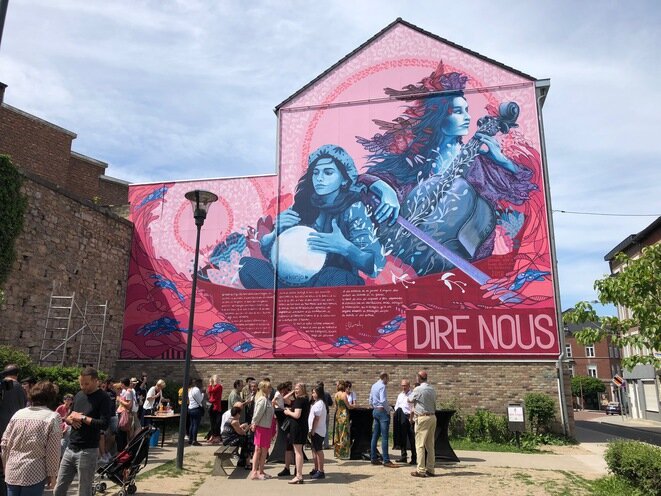 The fifth 'Dire nous' fresco in Verviers.
The duty to investigate, the courage to reveal: journalism in the public interest also builds a common foundation in which we find hope and trust. Goliath never lasts forever and there are always Davids to bring him down, finding their strength in the ideals of justice and fraternity. From Bailly's "people's safeguard" to Mediapart's "dire nous" there is the prospect of resistance to an acceptance of catastrophe. If we ask you to support us by subscribing, or re-subscribing, it is therefore in this spirit: of blocking the catastrophe, preventing the worst, hindering the unthinkable. For we would like to believe that, in this unpredictable world where those who govern us are rushing towards the abyss, information is a weapon that is as effective as it is peaceful.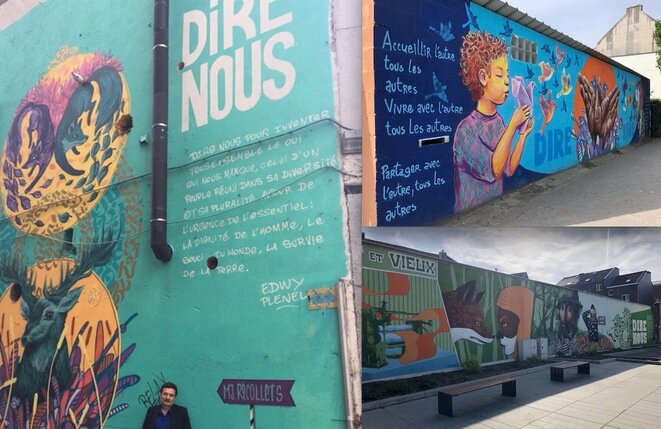 The 'Dire nous' frescoes in Verviers.
Le Club est l'espace de libre expression des abonnés de Mediapart. Ses contenus n'engagent pas la rédaction.