Patrice Barrat has slipped away
I'd worked as a translator for Patrice Barrat, founder of Bridge Initiative International, since 2005. Early this year, he passed away. My very humble tribute to this man of exception is today to publish my translation of the words written in his memory by composer, filmmaker, and writer Jean-Jacques Birgé.
Patrice Barrat has slipped away
Patrice Barrat was an extraordinary man, teeming with original ideas and terrific projects, a generous man, appalled by the injustice abounding on this planet. Initially a journalist, he had become film director then producer, had founded the audiovisual news agencies Point du Jour and Article Z, the NGOs Internews Europe, Bridge Initiative International, and others.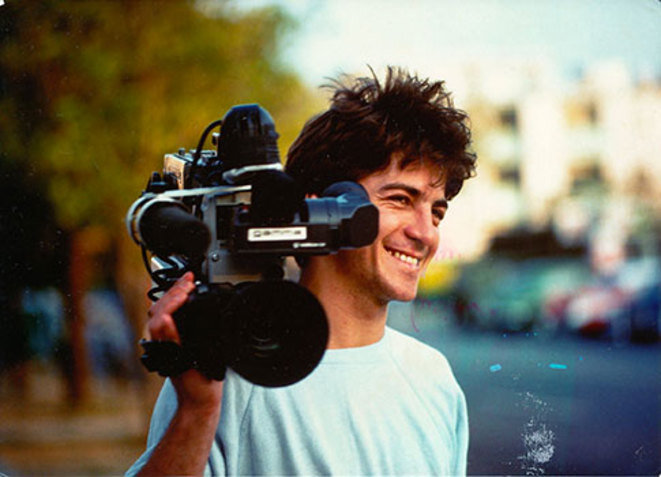 Patrice Barrat
Patrice Barrat was an extraordinary man, teeming with original ideas and terrific projects, a generous man, appalled by the injustice abounding on this planet. The most conscientious among us are those most often facing a burnout. Prevent them from working, from meeting their goals, and their life will no longer make sense.

I met him in 1993 when he was directing the news agency Point du Jour. Thanks to Jean-Pierre Mabille, then production manager, he embarked me on the series Vis à vis, which, on a political or social subject, connected two people in two different parts of the world for three days in a satellite-delivered compressed video. The Internet was in its infancy, and chats and Skypes were something from a distant future. I thus directed Idir and Johnny Clegg a capella. A few months later I was on board for Sarajevo, a street under siege (Chaque jour pour Sarajevo), the 120 episodes of which, produced with 8 other fellow travelers, received a British Academy Award (BAFTA) and the Jury Award in Locarno. Every evening just before eight, a short two-minute film was aired on the life of a street in the besieged city, a philosophical and poetic adventure staging the population's resourcefulness under bombs and sniper fire.

A journalist in radio (RTL) and the printed press (Nouvelles Littéraires and sometimes Libération or Le Monde) then in television, director then producer, Patrice Barrat would eventually set up two audiovisual news agencies (Point du Jour and Article Z) and two NGOs (Internews Europe, Bridge Initiative International), "more out of a spirit of independence than out of an entrepreneurial one"… He had lived through several sieges—Beirut (1982), Tripoli (Northern Lebanon, 1983), Sarajevo (1993 to 1995)—had been witness to several famines (Ethiopia, Sudan, Somalia), and spoke of poverty in New York, Paris, and other cities. Others will pursue his exceptional route, his tireless commitment, and his wildest projects, some of which he had succeeded in materializing.

On Facebook (nothing in the press, which is why I am also writing this deeply sad post, urged on by Gilles Cayatte's words), the film director Simone Bitton wrote:
Patrice Barrat had so many qualities—brave, creative, talented—and he was such a beautiful man… But he suffered from the nasty sorrow that sometimes prevents the most sensitive among us from continuing to put one foot in front of the other. He could no longer go on living and this time did not fail in his attempt. He preferred to leave and wrote that he no longer had the strength to fight.
We shared many important commitments, and he produced several of my films, including Palestine, Histoire d'une terre and Ben Barka, l'équation marocaine. The last time I saw him, a few months ago, we celebrated, laughing and singing, the birthday of an old friend in Rabat. Then he put on his backpack, like the young man he still was despite his sixty-plus years, and left to take a night bus to Marrakech…
How I hoped that he had definitively pulled out, that this high would not be followed by a low. But the nasty disease of sorrow came back to get him and he took it with him. Rest in peace, Patrice. The world this morning is so gray without you. And hug Denise for me up there.

A few months ago, he told me of his latest project, Le Grain d'or ou Les sept piliers de la citoyenneté [The Golden Seed or the Seven Pillars of Citizenship]. With my friend Bruno Lafuente, we wanted to try to materialize before this summer the ideas that we hold dear. And, we believe, that you do too. Seeking the Beautiful, in things, nature, and among people too, the feeling of an active citizenship and the project of a truly participatory society, seems important in France and in the world. In France, where the momentum of the new government is already flagging, countervailing powers and forces of change emanating from "civil society" in its full scope and diversity are vital for preventing the En Marche [political movement created by France's current president] wave from suppressing protest in its wake and for going much further than Macron's current agenda. In the world, because who doesn't need a second wind to resist against all these potentates wanting to rule unchallenged? Just one year ago, under Nuit Debout [the French version of the Occupy movement], he had created the Forum mondial du Réveil Citoyen [World Citizen Awakening Forum] (Resist Create Dare Hope Build)…
Patrice Barrat has escaped his living hell, fled the ugly ghosts whose victim he had been. Even though he had good reason to, we could not follow him. We are many, sharing the sadness of his early departure.
[Translation of Patrice Barrat s'est échappé.]
Le Club est l'espace de libre expression des abonnés de Mediapart. Ses contenus n'engagent pas la rédaction.