When will the Royal sealed letters, the ones that our kings and queens stamped with their emblem rings to silence the troublemakers, be addressed again? Actually, it's already done. It is called a European arrest warrant, and it was not a queen but the Swedish prosecutor Marianne Ny who came restoring the tradition, assisted by the European authorities' passive complicity. This arrest warrant is the primary cause of Julian Assange's seven years of confinement in the diplomatic mission of Ecuador, it never had any legal value, and this is obvious. Because otherwise, just invent any lie to condemn anyone, add few police or judicial fellows you had beers with, then a preliminary investigation opens, and the trick is done: any disturbing kind of man, preferably honest, receives an arrest warrant right in the chest and finds himself nailed to Europe's pillory.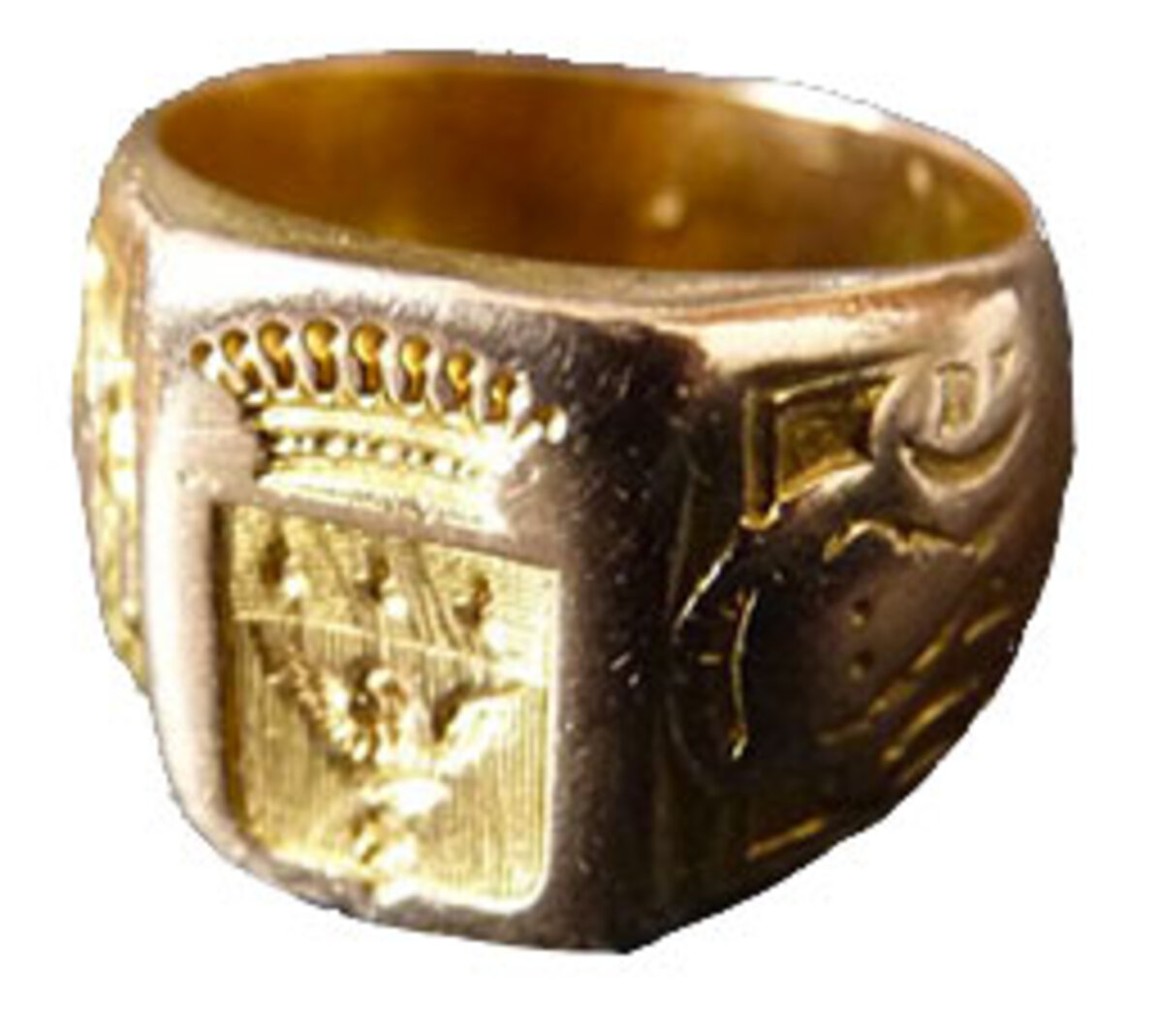 Full Scale Deviations
Along the falling slope, the United Kingdom is no more than a good student: its regression is only achieved with the tacit or active agreement of European countries and structures, of NGOs such as Amnesty International or RSF, thanks to a fantastic self-persuasion movement, an inter-allied resonance that slowly capsizes our societies into the deepest dictatorial quagmires. A few irreducible people still believe they are free, but here we are. The exercise of free will is no longer a matter of interest in decision-maker circles.
This drift is accompanied by the dominant media, stoned by a pathological fright towards any systematic search for truth or precision. They write "accusation" or "accused" without specifying whether they place themselves from the institutional point of view (Justice) or from the individual point of view. Julian Assange would therefore be "accused of rape". The reader believes that Justice accuses. Untrue, it never had the elements to accuse. If the accuser is an individual, the term is not justified either. A victim describes as rape a sexual abuse that has caused her or him a definite trauma. None of the complainants, who in the state of evidence may as well be liars, ever claimed to have been raped by Julian Assange. Neither "rape" charge, neither related trauma, remains propaganda.
On 18 November 2019, Sweden achieved the feat of the century: it ended a preliminary investigation for the third time. Except preventing a mock arrest warrant, that doesn't change anything. Julian Assange was no less innocent on November 17 than he is now, and in ordinary people's minds, he remains as guilty as they heard it before. Brainwashing has taken place, a pack of journalists is ready to run for the Pulitzer Prize. A mass of real rapists wander freely, including well-dressed people against whom underage victims provide evidence, and meanwhile the presumed innocents are being assaulted by a horde of shameless demagogues, and Julian Assange is languishing in a hardly identified dungeon.
When an employee declares sick leave, the administration requires a certificate signed by a doctor. It demands proof. And when the British administration keeps a man in detention, in conditions of "psychological torture" according to Nils Melzer of the UN, it could claim the right not to provide evidence on his conditions of detention? The first question is by whom and where these conditions are decided and applied. No one, no official of the British authorities has ever named his responsibility on this issue. As soon as this man's life is "in danger", the answer to this question is essential and vitally urgent.
The Belmarsh fortress
The reputation of the Belmarsh prison dates back to post-9/11, when three suspected terrorists were incarcerated there for three years before being freed without any charge, innocent as they were at start. This "British Guantanamo" remains, however, a prison with rules. One of them is to manage the visits of the persons on the list duly completed by the detainee himself. Many lambda citizens (the lambda has a particularity: he defends a cause without hidden interests) have tirelessly written letters suggesting him to write their name down. Seeing different people couldn't have hurt him; useless efforts, the Internet authorization procedure has never been successful. Some stubborn lambda repeated their request without success. However, several recent refusals do not mention a list issue, but an agenda issue. None of the dates, among those proposed over several weeks by the prison itself, were appropriate. Bad luck. Julian Assange is not available.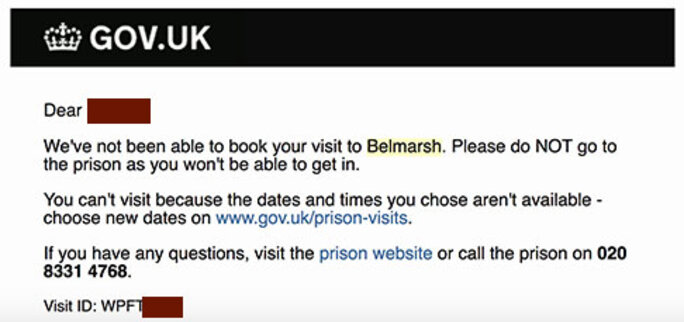 Many relatives and lawyers, sometimes even quasi-lambdas accompanied by relatives have nevertheless visited Julian Assange. Jennifer Robinson, John Pilger, artist Ai WeiWei, Pamela Anderson, John Shipton, Kristin Hrafnsson all expressed their concern about his health. These visits are reassuring in a certain sense, but in no way provide a guarantee equivalent to a HMP Belmarsh stamped document. On May 7, Kristin Hrafnsson deplored the "unacceptable" isolation of his boss, who "spends most of the time 23 hours in his cell". Has he filed a complain to the administration? No idea. The WikiJustice Julian Assange association did so and received a letter from the Business Manager to Executive Director of the prison. He states that the conditions are in accordance with PSI Regulation 75-2011, which requires all prisoners to spend at least 2 hours a day outside their cells and 30 minutes in the open air. This is twice the release time announced by Kristin Hrafnsson, a crucial time for Assange's health. The prison officer provides useful information on prison proceedings, but apologizes for being "unable to comment specifically on Mr. Assange".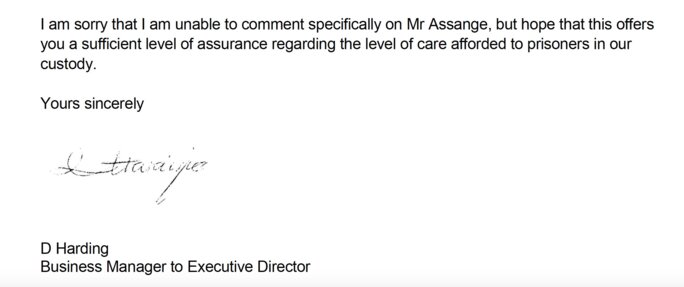 We are in an embarrassment: in the absence of Julian Assange related administrative documents, for example a medical report and a schedule of visits signed by doctors or civil servants, we have in front of us two almost contradictory testimonies. If Julian Assange is in Belmarsh, isolated 23 hours a day, then D. Hardin adds his signature to a ruling he is violating. He would take a huge risk. At the same time, he cannot comment on the state or presence of Mr Assange "specifically". Harding and Hrafnsson's statements are in accordance only if Julian Assange is not detained, or is not permanently detained, in Belmarsh prison. A doubt settles in, as large as a dark place.
Widespread doubts
From both a systemic and an individual point of view, doubt has been around for years. The first is the threat awaited by all protagonists. The young employee of the American Democratic Party Seth Rich was murdered in 2016, and many believe he was murdered for his alleged involvement in the DNC Leaks. This is enough to put the whistle-blowers connected or not to WikiLeaks, under huge pressure. Still in 2016 (*), WikiLeaks lawyers John Jones and Michael Ratner and the director Gavin MacFadyen die in April, May and October; no evidence of murder, but doubts and pressure on the protagonists are rising.
Some Assange's prominent defenders have twitter and facebook as their second language. Since virtual world does not replace real life, the characters behind a twitter account are moderately reliable. As early (some would say lately) as August we expressed our doubts about the one of @AssangeMrs, supposedly held by Julian Assange's mother. Finally, his mother did not go to London. And no later than December 1st, @AssangeMrs announces she quits twitter, because she "can no longer cope with the "activist" community". Her 60,000 followers might look for her a long time: she does not say where she will go defend Julian Assange. He is innocent, imprisoned and tortured, she does not attend his hearings, and she leaves the only public bond that kept her connected to the defence? All her tweets have now disappeared, the past of the "activist" mother is erased. Two questions still raise:
Could she have drained so many people for so long without the tacit agreement of defence bodies such as Unity4J or defendwikileaks.org whom she retweeted so often?
Where is Julian Assange's loving mother?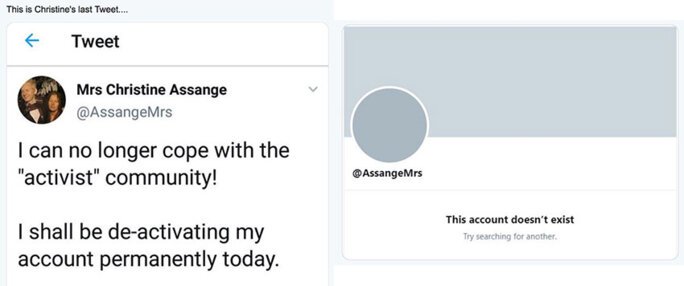 Sometimes people active on twitter are well identified, but they abandon Assange's defence overnight. It is the sincerity of their commitment, and therefore their relevance, which ends up questionable. For example Stanley Kubrik's daughter, known for her pro-Trump activism, lost her interest in Assange's fate at a time when he needed help most. Cases of this kind are numerous.
The vast majority of the lawyers mandated to defend Assange, as well as their firms, have their interests so tightly linked to the United States ones that their ineffective action becomes highly suspect. We have demonstrated this several times (here, there and there). The Swedish case turned into a fiasco, following the last episode of the third abandonment of the preliminary investigation. Did prosecutor Marianne Ny, who was responsible for Julian Assange's persecution, and prosecutor Eva-Marie Persson, act in a balanced objective way, or according to interests and pressures linked to US power?
Add up to these the parody of a British justice system, which follows its course as if nothing had happened in Julian Assange's absence. His "presence" on video at the last hearing on November 18 at the Westminster Court sums up the situation. His visible state of health is dramatic. We don't even know if he has an audio-visual feedback of what's going on in the courtroom, his lawyers and the judge don't even care. It's monstrous.
Add up to those the historical and pragmatic interweaving between the policies of the United States and those of Great Britain or Sweden, in articulation with dominant media that put their readers, eager to know what is happening around Julian Assange, in the position of a blind man from whom white cane has been hidden in a closet, and we end up in the current context: the citizens most involved and informed of the case have no other alternative than to doubt of everything, to check each other out, to imagine reality from the few indisputable elements found here and there. Moreover, this situation is in perfect adequacy with the ever-expanding atmosphere of mistrust between the world's populations and local, invisible or external decision-makers.
Seven years of hardship
The lies of the present cast doubt on the past. Nils Melzer and the two UN-mandated experts observed the state of psychological torture on 9 May 2019, less than a month after Julian Assange's firm detention. Level of anxiety and stress, inability to "relax for long periods of time", these experts observed identical symptoms on victims examined following a process of active and prolonged torture in war zones. Nils Melzer insists on the blatant symptoms that drove immediate diagnosis. Hence comes the question on what exactly Julian Assange went through in jail but also at the Ecuadorian embassy.
Lambdas naturally went to this Hans Crescent street once besieged by the British police, where crowds had gathered. Not all the traces had disappeared, a faded "Free Assange" flyer could still be read on the Royal Mail red box.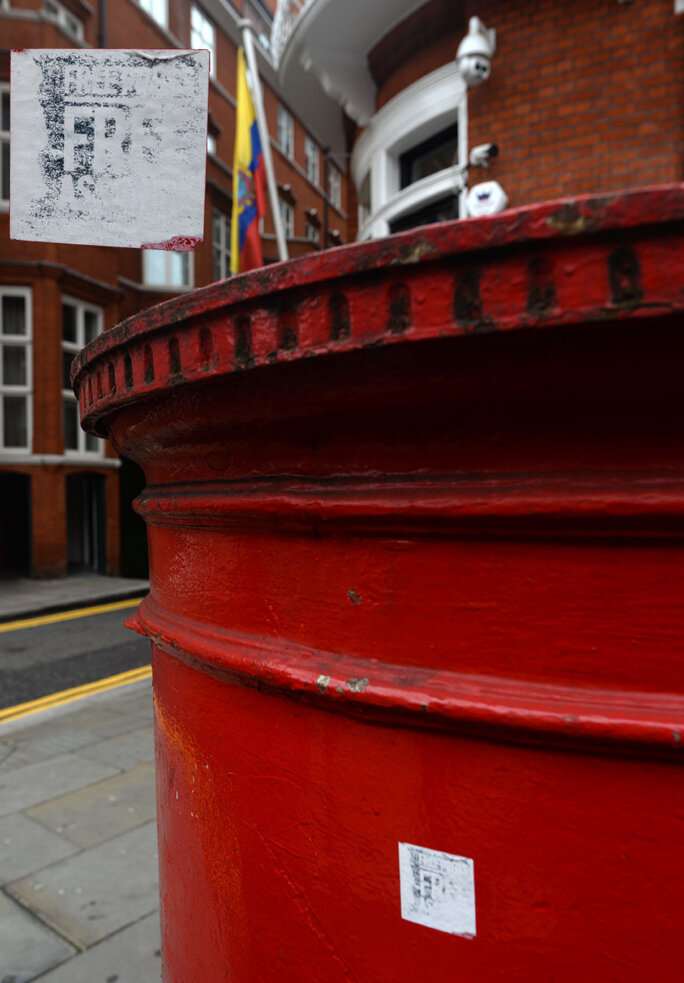 The small balcony with the Ecuadorian coat-of-arms and flag is within reach of the passer-by who lost his chance to shake the hand of Julian the plebeian. From there, one can see on the opposite side of the building a flag quite similar, that of Colombia though; surprise, the newspapers did not spot this detail. Lambdax rings the interphone, and sees the number two of the Ecuadorian mission going down the stairs. His presents himself as Leopoldo, he is forced to a "no comment" on Assange's situation, but agrees to testify to the excellent relationships his country Ecuador has with Colombia. This may seem surprising, if we refer to President Rafael Correa's peculiarity: the left-wing man who is struggling to loosen the economic yoke of the United States on Ecuador; this option could have created tensions with the Colombian government, steadily conservative and US friendly. A second intercom call, and the Colombian embassy assistant arrives with the same eagerness by the same staircase, using towards Leopoldo's country the same benevolent words.
Colombian-Ecuadorian relations may be great, but the promiscuity of the two embassies lets us skeptical. One rule leads diplomatic matters, discretion. All visitors are visible by both sides, the walls in common are perfect test cases for booming espionage technologies; this would not be contradicted by the employees of UC Global, the Spanish security and surveillance company which, according to Stefania Maurizi of La Repubblica, was approached in 2012 by Rafael Correa's Ecuadorian government because "the embassy lacked the most basic security measures". The journalist reports that David Morales, the founder of UC Global, "put himself at the service of American Intelligence to spy on Julian Assange", according to a version "rebuilt" by "witnesses".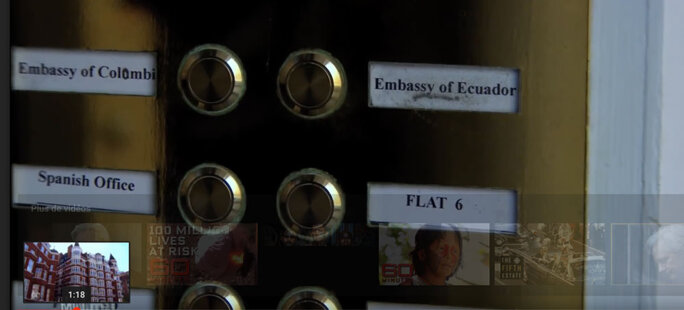 What is striking here is the relaxed spirit in which the former Ecuadorian president outsources his security to a Spanish private company, which apparently had an independent "spanish office" in the embassy building. As if Ecuador did not have its own security services. Especially since private security often recruits former secret service personnel (see Baron Arbuthnot), and Spain has joined NATO while maintaining close relationships through agreements and treaties with the United States. It is a natural course of events that the CIA should interfere in this porous environment. The question is: if it did take place, when was Rafaël Correa aware of the CIA's intervention via UC Global?
The Embassy's activity is also not very visible. All receptions and conferences are announced in the consulate building located in John Sessions square, where Ecuador occupies a much larger area. At the chic pizzeria around here, the waiters don't remember seeing Ecuadorian diplomats. The 3 Hans Crescent building is free-holded by a real estate company lead by United Arab Emirates investers, located in a tax haven; Ecuadorian state owns an apartment and basement shed since 1977. One of the directors is none other than Mohammed bin Khalifa Al Nahyan, son of the President of the United Arab Emirates, and his company is listed in the Panama Papers.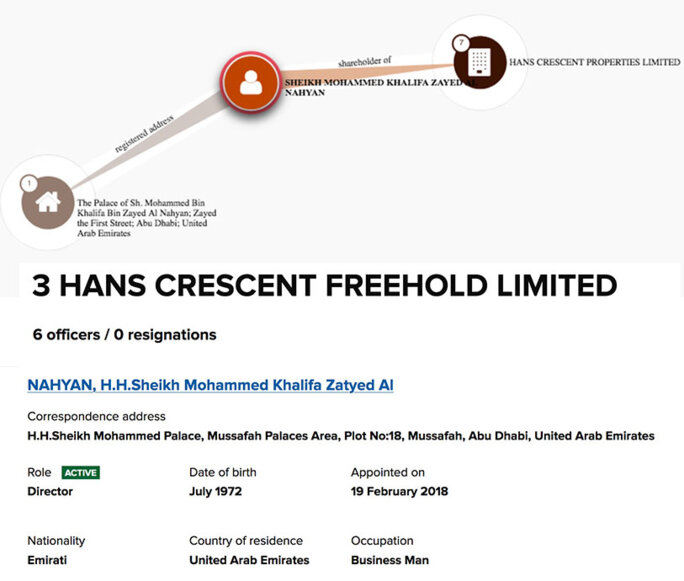 The "Spanish Office", probably rented at the time by the security company UC Global, corresponds to "Suite 4", the upper range of available apartments. The purchase price given by the Lebanese family that owns the place is £12 million. The Ecuadorian ambassador officiates on the ground floor, in a lower-end accommodation, while renting the services of Spanish technicians housed in the large suite on the first floor. How much did Rafael Correa pay for a private protection actually Trojan horse of the CIA, as revealed by the Republicca ?

From the outset, the arrangement is disproportionate and incomprehensible. All the countries represented on the Embassy's premises are historically and economically closely linked to the United States: Colombia, Spanish supposed to be managers and technicians, and the Gulf countries freeholding company.
Fragile Storytelling
As soon as we dig, the ground falls down at our feet, so we go down one floor, and we dig. And we find Assange's Deposition done on 14/15 November 2016, the end of the "bloody year", where he states: "I, Julian Assange, an Australian citizen, have had my passport seized by the British authorities and therefore I cannot provide an official identity document, I am in a situation of arbitrary detention...".
That is weird. If he received political asylum in 2012, he had to possess a valid identity document, and since then he has been holed up in Ecuador's sovereign territory in London: British authorities cannot "seize his passport" there. So either the granted political asylum was defective in form (proof of identity is required), or the British authorities subsequently seized his documents, which could not be done without Rafael Correa's Ecuadorian complicity.
The granting of Ecuadorian nationality is no more convincing. It is scheduled to take place in December 2017 under the Moreno presidency. The information was leaked by local newspapers, then vaguely confirmed by the Minister of Foreign Affairs in an interview, not in a formal press conference. Julian Assange's Ecuadorian passport has never been shown; we know only one thing: on 20 December 2017, the English authorities refused him "diplomatic status", requested by Ecuador. Was it a political decision, or was there a missing document in the file?
The "siege" of the embassy by the London police cost "millions of pounds", everyone has in mind the images of Scotland Yard agents, those of the documentary Risk for example, where Consul Narvaes complains about the disproportionate forces. However, the impression of a besieged fortress is much less blatant in the daily photos, where two officers are quite discreet on the side of the building (below, in 2012 and 2014). Former Ecuadorian Minister Guillaume Long talks about "76 guards surrounding the embassy for years". It is hard to imagine two embassies, let us not forget the Colombian, accepting such an intrusion, without any legal basis, permanently disrupting their functioning as diplomatic missions.

Along the way, doubt is growing. Because our European diplomatic contacts do not understand the carelessness of the embassy, which was unable to provide the minimum care, particularly dental care, that Julian Assange needed during these long years. A diplomatic mission always manages to be autonomous in terms of care. Modern equipment is being downsized. The pretext put forward at the time, the inability to perform a dental X-ray, only holds if poor efforts have been shown to make it possible. If it was a financial problem, donations have always flowed into WikiLeaks; but Ecuador is not indigent, it is the 12th largest oil producer in the world: the problem is elsewhere.
The Hatred Factory
Georges Orwell taught us that if the enemy does not exist, totalitarian power invents it. Together with his sidekick George Bush, Tony Blair set the propaganda bar high with MI6 and its bogus report. It was to justify the attack on Iraq, at a time when millions of people were protesting against this war in Western capitals. Then the hunt for terrorists with legal weapon Patriot Act moved forward. The idea of an "axis of Evil" warmed the malleable minds ready early enough to depart from the rule. And the right axis opened a new renaissance era, that of out-sourced torture. But the collection of information has never been the primary objective of torture: if electrical "gègène" had helped France to remain in Algeria, that would be known. The CIA itself had concluded that "coercive interrogations[...] are historically proven to be ineffective"; it was written by US Senator Dianne Feinstein in the declassified 2014 report on the CIA's "Detention and interrogation programme".
The effectiveness of torture lies in the manufacture of hatred and enemies. Within our territories, since 2015, the death toll in France has been 253 and a thousand wounded in nine attacks claimed by Daesh, while in England it has been 38 dead and 189 wounded in four attacks, 36 deaths in Belgium and 12 in Germany.
During these carefully maintained cycles of hatred, innovative practices emerge. The "rendition" was the subject of an inquiry committee conducted over the period 2001-2010 by the British Parliament (House of Commons). The report published in 2018 has its limits, because the deputies, constrained by the Prime Minister on the "national security" criterion, were not "able to conduct an authoritative investigation and produce a credible report".
Rendition is a kind of special delivery of alleged criminals from any base to a military base run by US troops, via third countries or to third countries often equipped with secret prisons. The House of Commons inquiry reports a delivery of 29 prisoners, partly captured by British troops, brought from Iraq "in wooden crates" too narrow, to countries where US military bases exist. The names are transformed, CUPAR could designate Morocco or Poland for example. The suffering and humiliation endured in transport is torture in itself, and the places of arrival are chosen for their tolerance to torture.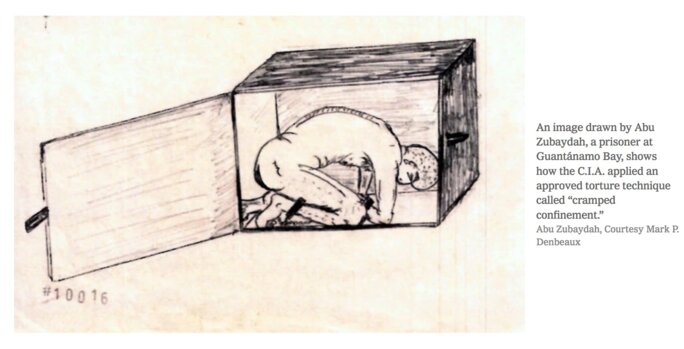 The MPs report that in a transit hangar in Bagram, a "colleague" posted in Bagram witnessed that "he and others at times heard audible screams", suggesting that torture was active at break time. In these situations of bare savagery made by USA, British officers had a confusing position, between witnesses and contractors to torture. The most scrupulous then contacted the Head Offices, the command and communication centres of the various services: FCO, MI5, MI6, GCHQ (government headquarters), Defence. The returning instructions result in a subtle laxity summarized in the report as follows: a "lack of guidance for officers (we consider that the deployed personnel have not been sufficiently supported by their central administration)..".
From Black Site to Dark Room
British people sometimes accompany their American colleagues to coded places, commonly known as "Black sites". In 2005, an officer discovered in ANWICK a "torture centre" equipped with cells the size of a single bed, without a bed or furniture, 1.8 metres high, without a window but with neon light; "we didn't see if there was a switch inside, but there was an external switch," recalls a visitor.
Total light or darkness is controlled from the outside, which is consistent with methods practiced at Baghdad airport: "The other regular sanction is the 'dark room'. This is a blacked out room where detainees are exposed to strobe lighting and loud rock music to create a disorientating effect. They have a 30-pound weight tied around their neck and a guard makes them walk constantly around the room. Should they collapse, they are doused in water and revived; they then continue in the dark room. The temperature is varied between uncomfortable extremes."
The British MPs point out that "98 per cent of US Special Forces would have broken if subject to the same conditions", when the executors are not overzealous, as in the deadly case of an enhanced "boiling water" interrogatory, mentioned in footnotes.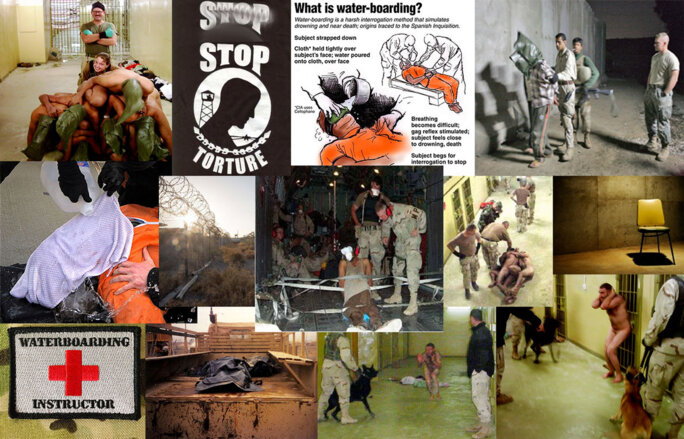 Universities and associations took renditions and "extraordinary rendition" for studies. The analysis of flight plans between 2001 and 2005 enabled the NGO Reprieve to show, with supporting testimonies, that five tortured detainees had transited through Glasgow-Prestwick in Scotland. The airport management has reportedly been "misled" by US and Polish officials, but the NGO is careful to question "the real independence of the Scottish criminal justice system", and urgently advocates "greater autonomy for Scotland in the context of "foreign affairs"" (**).

These investigations are not stamped since they have never crossed the threshold of the Courts of Justice.
For a decade, British agencies have thus nourished places of torture, exploited information obtained in this way, financed acts of savagery (without knowing it a priori, of course), and gradually a form of trivialization of these practices has taken hold. Such a context does not vanish overnight. For 2016 campaign, Hillary Clinton declared "the United States should never condone or practice torture anywhere". As long as US Courts will consider enhanced techniques as legal, Mrs Clinton can be against torture and prorogue torture techniques without formal contradiction.
The more zealous officers are inevitably placed in key positions, the outraged ones are marginalized, the force of habit plays its part, the trauma of the attacks on our territories reinforces the influence of "radicalized" officers, to use a trendy term. President Trump placed the former patented torturer, Gina Haspel, at the head of the CIA; US Senator Dianne Feinstein desperately expresses her "sincere and deep hope" to turn the page on renditions, while worrying about the precariousness of the moderation directives ordered by Barack Obama in 2009; this Nobel Peace Prize holder, who has not closed Guantanamo, advocated "short-term, transitory basis" detentions and the follow-up of the "Army Field Manual". Through the Patrioct Act and the 2002 torture memos issued by the US Office of Legal Counsel, U.S. legal background continues to allow for "enhanced interrogation techniques", a reminiscence of the "Question" practiced by medieval executioners.
There is no evidence that the United Kingdom services, well in line with the United States foreign policy, have abandoned outsourcing to torture, which is an oxymoron. According to the UN definition (see annex), any "person acting in an official capacity", whether directly or "at his instigation, with his consent or acquiescence", is considered a torturer.
Unavoidable hypotheses
Suspicion spreads in all areas related to the British authorities that affect Julian Assange's situation. There is no written administrative evidence to provide certainty about Assange's situation after his extraction from the embassy. His past situation at the embassy is getting darker. The torture he has suffered over a long period is diagnosed but not characterized. The oral testimonies given by Belmarsh visitors do not compensate for administrative shortcomings, far from it. The statement of hypotheses is more legitimate and necessary than ever, with the minimum set of clues that we have developed here, and the ones existing in sincere articles.
Hypothesis 1: The Ecuadorian Embassy premises were used as an intermittent secret prison. External people had direct access to Julian Assange for questioning. These interrogations could have been prepared by situations of torture such as "dark room", and/or by the ingestion of medicines or drugs, to varying degrees. The British authorities can just close their eyes tightly, this is enough not to be aware of what is happening on a territory of foreign sovereignty. In such a way it is easy not to endorse the legal responsibility.
Elements 1: The promiscuity between the Embassy of Ecuador and Colombia has been largely ignored by the dominant media. The Ecuadorian flag of the embassy was placed vertically until 2009 or 2011, which made it distinct from the Colombian flag which has the same colours. In 2012, it is difficult to discern the new flag from the Colombian. One possible intention of this discretion is to hide the fact that important Ecuadorian diplomatic activities no longer take place in Hans Crescent street. Sensitive diplomacy would be carried out at the much bigger John Session Square Consulate, thus there would be no promiscuity. According to the London land registry, Ecuador has only one habitable apartment at Hans Crescent, which we estimate measuring 70 m2. If Julian Assange needs to be accommodated, there is little room left for the ambassador, his assistant, the secretariat, the meeting room. Seven years of diplomatic activity under these conditions does not seem realistic. The embassy has the appearance of a secondary annex.
On April 11, the day of the extraction, incisive testimonies come out of the media closets:
- Daniel Domscheit-Berg, former WikiLeaks worker: "Julian ate with his hands and he always wiped his fingers on his pants. I've never seen pants as greasy as his in my whole life."
- Former New York Times editor Bill Keller: "He smelt as if he hadn't bathed for days", he wore "dirty white shirt, beat-up sneakers and filthy white socks that collapsed around his ankles
- Ecuador's Minister of the Interior, Maria Paula Romo, refers to Correa presidency period which ended in May 2017: "they tolerated things like Assange putting feces on the embassy walls and other behaviors far from the minimum respect that a guest can have".
It is possible that Julian Assange has the habits eating with his hands; this is corroborated by Andrew O'Hagan, the author of the unauthorized autobiography. He insists about it in his essay Ghosting focused on the years he was in contact with Assange. This bad manner could have been taken from his childhood in the Family Cult sect which regularly starved children; we know also he is rather careless of himself (the way he dresses…), this is consistent with his ethereal intellectual side. But the fact that he would stink, as Bill Keller suggests, does not correspond to the respectful and calm attitude, careful of others, we know of him.
Has the regime hardened to the point at which the embassy withdrew the means to wash himself and its clothes on a regular basis? This would explain why its occupants "tolerated" these facts, as Maria Paula Romo states. But for him to start smearing the walls with shit, this very much sounds like a guy who reacts to situations of abuse. Republican IRA militants in Ireland had rebelled in this way; French reporter Sorj Chalandon covered the civil war in Ireland, he wrote later a realistic novel (*3): "In March 1978, beaten every time they went to the shower, the guys broke their furniture and refused to come out of their cells. Republican soldiers decided to piss on the floor, shit in their hands and spread their excrement on the walls. When I returned to the H4 block of the camp on November 1st, 1979, three hundred comrades had been naked in their blankets and living in their shit for three years." This was two years before Margareth Thatcher let Bobby Sands and his companions die on hunger strike to obtain political prisoner status. They were claiming their right to dignity by imposing themselves and their jailers unbearable living conditions; they were shouting out loud their inner freedom.
Julian Assange might have himself reacted to some forms of torture. The embassy has a storage room in the basement, one can imagine that Julian Assange remained confined there for several days, with a light controlled from the outside, or not; one of the leaked videos of the embassy showed Julian Assange sitting in front of the large mahogany table, his shoulders falling, obviously overwhelmed, with a man off-camera asking him a range of questions. The video, with bad though audible sound, has since disappeared, but the atmosphere could have corresponded to a kind of interrogation session.

In his Ghosting published in 2017, Andrew O'Hagan describes one of his visits to the embassy, where he shares a beer with Julian, "sitting in the dark room". In the writer's precise language, the term "dark room" may not be insignificant.
In Europe, several city centres have hosted "black sites" in connection with renditions managed by the CIA. In Bucharest, it was located in a basement used by the National Office for the Archiving of Classified Information (ORNISS) to store sensitive EU and NATO files; site code: "Bright Light" (*4). In Vilnius, Lithuania, the site was "a single-storey detached building in the centre of Vilnius". These torture and interrogation places have been active about ten years ago. If these hidden places no longer exist, it is up to the concerned governments to provide strong evidence.
Hypothesis 2: Julian Assange would have been regularly extracted out of the embassy to be tortured and/or interrogated. The basement of the building, rented by the Embassy, has a door on the road side. Where does it lead?

Lambdax met again Leopoldo leaving the embassy, on a day when the Mail Box had been freshly painted. The greeting is jovial, but Leopoldo lacks time and says: "It's not happening here anymore, it's in Belmarsh!" Lambdax likes stories of the past, he can't help it. He wanders along the neighbourhood, wondering what might have happened in these buildings, taking photos of the many seemingly empty flats with interior shutters behind windows, in the quarter around and in front.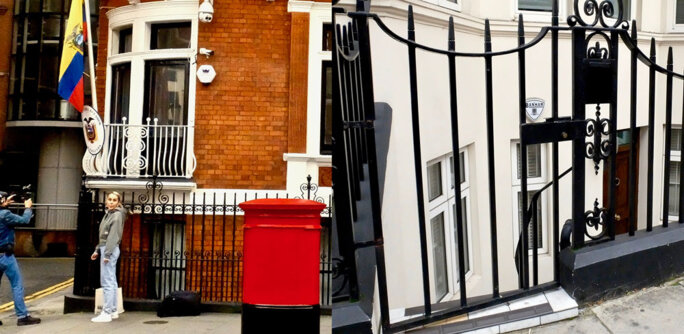 He wonders if internal paths exist from the embassy to the parking lot with truck access in the dead-end street. Many questions, few answers.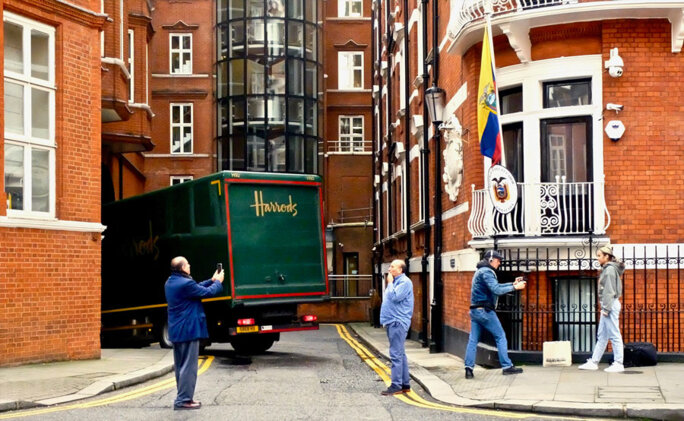 Hypothesis 3: Julian Assange is present at Belmarsh prison on intermittent basis. In the meantime, he is being interrogated by external agents in unknown places, under conditions that are not under the control of the British prison authorities. Not only there is no official signed document certifying that he is a HMP Belmarsh detainee, but the citizens present at the hearings note some disturbing facts: the screen where Julian Assange appears does not have a "HMP Belmarsh" inscription. The guards are not visible unlike the other Belmarsh litigants, accompanied by their guard; judges and lawyers never address Julian Assange, they do not name "the Belmarsh prison" but use elliptic wordings: "where he stands", "from where he is"...
In his recent speech to the European Parliament, the UN's fellow Nils Melzer, who is ringing the alarm about his health, describes Julian Assange being "isolated in a specific place". Saying or writing "HMP Belmarsh" becomes a real challenge.
Nature hates emptiness, our assumptions merely fill the gap. What is inconceivable is that these hypotheses are credible, or at least that there is no official evidence to exclude them. Or rather: that the degree of suspicion inspired by Julian Assange's concrete situation, combined with the total absence of administrative evidence on his situation, gives full legitimacy to these assumptions.
Panoptic
Julian Assange's persecution is shaped in a multi-layer background. The most worrying of these is the abandonment of any idea of independence versus United States by a majority of European states, together with EU institutions. The British and Swedish governments are among the most advanced in this field. Germany and France are not to be outdone, President Macron's denial of political asylum for Assange is a stigma, the loud silence of French daily newspapers about Assange case is another prominent one.
Mediapart journalists covered one month ago, with the usual "accuse" wrong statement, the psychological torture condition of a journalist they cooperated with, five month after the first UN torture diagnosis ; the Omerta award is about to be given to tycoons Xavier Niel and Matthieu Pigasse, default co-authors of a final sentence, published in the form of an editorial dated April 13 – end of the Assange story from Le Monde point of view. The far insufficient coverage from the monthly journal Le Monde Diplomatique does not raise the average.
The dominant media and most European governments are dropping their pants in front of the American giant, to be polite. Located on another stratum, the calamitous industrial policy of successive French governments certainly does worse than all the countries combined, they allow strategic bastions to be destroyed or weakened by American industrial companies, the Asltom-Energy affair being just the emerging part of the iceberg's dismantling.
From this point of view, the reason of State can, in the medium term, be seen as part of a meta-global ideology in which France agrees to submit its vital production, particularly in terms of infrastructure, to foreign forces. This poses major risks in terms of maintenance of our nuclear plants, for example, but we can admit that our leaders trust leaders like Donald Trump or pacifists as famous as Hillary Clinton, or you never know, promising personalities like Joe Biden and his son. This reason can also hold, provided that we accept the loss of meaning (or what remains of it) experienced by workers, in the sense that they are definitely losing control over the purpose of their production. The inevitable scarcity of jobs presenting any interest on a daily basis is another bias. In short, this reason of State (*5) tends to generalize a new kind of slavery.
Julian Assange inquisitorial process has transformed our Presidents, prime Ministers, Ministers of justice and foreign affairs, press and TV editors, European Commissioners,[...], into the state of mute statues. This process opens the way to a greatly innovative reason of State; some would proudly say "disruption". This is a reason, at first, barely criminal: as long as torture is not legalized, though. That said, given the number of laws and procedures that have been trampled underfoot in complete silence, and the ability of the British system to short-circuit the entire judicial process (right, with the help of Assange's lawyers), decriminalizing criminal reason may not require new legislation. A definitive disqualification of the Rule of Law would smartly fit the target. However, this happy ending underlies a cataclysmic disaster: lawyers would lose their jobs.
If our assumption of rendition is confirmed, namely the delegation of the crime to a foreign force on its own soil, it will automatically be resolved by the fulfilment of the globalizing ideology. We will no longer have to pull our hair out thinking about these vile territorial issues, the delegation will become a de facto internalized activity, and in any case, torture will no longer be a crime.
There is still a question and an affirmation:
If they hadn't lowered them, would have they managed to pay for their golden panties?
The endengerment by Julian Assange's revelations of States that give such a perspective to the reason of State is not a danger for reason, the wise.
Quite the contrary.
(*): We reviewed the circumstances of John Jones death here, and Gavin MacFadyen's here. Michael Ratner, lawyer for the American civil rights movements (Black Panthers...) died of illness in May 2016 aged 72.
(**): In 2008, the Scottish Police conducted a "preliminary investigation" into these renditions, concluding that " there was insufficient credible and reliable information to enable them to commence a criminal investigation ".
(*3): Study published in The International Journal of Human Rights, "Tracking rendition aircraft as a way to understand CIA secret detention and torture in Europe."
(*4): Sorj Chalandon, "Retour à Killybegs", éd. Grasset & Fasquelle, 2011.
(*5): In this perspective, the term raison d'État is of course obsolete. "Ideological reason" would be less inaccurate: that of a non-hegemonic and non-democratic ideology, i.e. imposed by force and propaganda.
CITIZENS ARE KEEPING THEIR PANTS UP FOR JULIAN ASSANGE
FORMIDABLE. International Lawyers ask to "set Assange free immediately".
Don't worry, these are not Assange lawyers; not yet. The nine fellows native from USA, Norway, Japan and Germany signed "An Appeal From International Lawyers". They denounce the "extraordinary renditions", and draw a judiciary and political landscape not less frightening than ours. Here is the conclusion of their important statement:
"The treatment of Julian Assange is below the dignity of the great nation that gave the world the Magna Carta in 1215 and the Habeas Corpus. To defend its national sovereignty and obey its own laws, the present British government must set Assange free immediately."
Request for the release of Julian Assange: CULTURE
In France, more than 300 cultural domain professionals signed an open letter punctuated by "WE REQUIRE THE IMMEDIATE LIBERATION OF JULIAN ASSANGE", backed by a petition that collected 10,000 signatures in two weeks; here are some famous names: Emir Kusturica, Albert Dupontel, Jacques Audiard, Maria De Medeiros , Josianne Balasko, Jean-Jacques Beineix…
This was not enough for AFP, Reuters or the major dailies, except for the newspaper L'Humanité which published their open letter.
The letter begins as follows: "On October 21, 2019, some directors, artists, journalists and musicians, travelled to London by bus with other French citizens to support Julian Assange who was presented to the Westminster Court."  "Disgusted" with what their saw through their own eyes at the trial, they moved heaven and earth, and they are continuing. Their initiative demonstrates the importance of a fair Justice: Julian Assange's presence at only one of the hearings was enough to create a new breach in the propaganda wall.  
Assange FORMAL RELEASE REQUEST sent to judge Lady Arbuthnot
The Human Rights Association WikiJustice Julian Assange (WJJA) sent two formal requests for release on November and December, to the British judicial and governmental authorities. The request is duly justified through the stated facts and the legal texts pushing for the release. No response has been received to date.
WJJA association sent this week a request addressed to the UN, asking mainly for UN inquiries on Assange case, and UN support for the release request.
Considering it has delegates systematically present at the hearings, the association deplores the interference generated at public entrance by a person known on twitter as GreekEmmy.
She behaves like if she had the authority of the Court guards, without apparent legitimacy, regarding the management of the public access to the usual 14 places meant at attending the hearings. Two delegates, who arrived among the first at 7 a.m. on November 18, were unable to attend the hearings because of her action. The situation is not facilitated by the Westminster Court, which attributes for Assange hearings the small Court Room 3, rather than the Court No. 1, with 40 public places (as it occurred on October 21). For a trial that concerns the whole world, it's incomprehensible. At least 20 people could not attend the November hearing due to overload. This is disrespectful to citizens who often travel at night in uncomfortable conditions at their own expense. This is unworthy of British hospitality, where there are still gentlemen to guide us through the London streets.
Open letter - 60 DOCTORS express their "concern" about the "critical situation of Julian Assange":
The signatory doctors, mainly from Western Europe and Australia (add one American and one Sri Lankan), addressed a letter to the British Home Secretary  Priti Patel, in these terms: "From a medical point of view, on the basis of the evidence currently available, we have serious concerns about Mr. Assange's ability to stand trial in February 2020. We believe that Mr. Assange urgently needs an expert medical assessment of his physical and psychological health. Any medical treatment indicated should be administered in a well-equipped and qualified university teaching hospital ».
They draw up a detailed chronology of the crazy obstacles Julian Assange fell on while he needed health care. They deplore "the climate of fear and intimidation" that has "seriously compromised medical care".
Their salutary reaction omits a few important points: a "medical evaluation" is supposed to exist, made by their colleagues at the Belmarsh prison hospital. They are not asking for it. Second, if it is indeed essential that Julian Assange be able to have access to a "well-equipped" hospital, it is no less important that this hospital, if he feels the need to get there (attentive doctors and a good breath of fresh air could do him more good), be chosen by himself, and therefore that he be previously released.
If he were indeed transferred to a public hospital, this does not guarantee the transparency of his treatment, as the last nine years have shown. If he were released and cared for in a country free of any American military base, France for example, this would be a guarantee of proper treatment.
The Royal Mail is no longer what it used to be
There are countless letters getting lost in the hands of the British post office. The latest ones are two international registered letters, fifteen euros each, sent to Westminster Court by the association WikiJustice JA. It was a request for release; the return receipt was not sent back within three weeks.
By not receiving any answers from Julian Assange, citizens finally sent letters in this famous mode with on line follow-up of the delivery steps. One of them crossed the sea, but got stuck somewhere between St Pancras and Belmarsh.
The problem may not occur at national scale. Check out first Westminster Court and Belmarsh areas.
Request for "suspension of psychological torture": French Journalists' Unions
The inter-union press release of the SNJ, SNJ-CGT and CFDT-Journalists was published on union site SNJ. Entitled "The case of Julian Assange constitutes a worrying violation of press freedom", it mentions in particular the Geneva Convention, and insists on the urgency "as a first step, to demand, with the help of the 27 European leaders, the suspension of the psychological torture of which Mr Assange is victim in his cell. »
Excerpt from Sorj Chalandon's Retour à Killybegs
(Novel based on real facts. Page 238.)
Martin Hurson died on July 13, 1981, at the age of twenty-five, after forty-six days of hunger strike. Kevin Lynch died on August 1st, twenty-five years old also, on the seventy-first day. And Kieran Doherty the next day, at twenty-six years of age, on the seventy-third day of fasting.
Franck "Mickey" Devlin was tortured five days long at the Castlereagh interrogation centre. Deprived of sleep, forced to stand up, naked for hours facing the wall, arms spread out . He was beaten, electrocuted, strangled, burned with cigarettes, impeded to breath with wet cloths. In between interrogatories he was thrown into a soundproof room, blindfolded. Those who have experienced sensory isolation say that their very cries were muffled.
Europe had described this treatment as "inhuman and degrading". Walder didn't give a damn. For him, the Republicans had to confess. Before another shot was fired, before another bomb exploded, before another Popeye died somewhere in the city.
Definition of torture according to UNCAT, United Nations Commission on Torture:
Any act by which severe pain or suffering, whether physical or mental, is intentionally inflicted on a person for purposes such as obtaining information or a confession from him or a third person, or punishing him for an act he or a third person has committed or is suspected of having committed, intimidation or coercion of or for the benefit of a third party or for any reason based on discrimination, where such pain or suffering is inflicted by or at the instigation of, or with the consent or acquiescence of, a public official or other person acting in an official capacity. It does not include pain or suffering resulting solely from legitimate, inherent or incidental sanctions.