Mediapart celebrated its tenth anniversary at a special two-day event in Paris this spring. And as with every year, the anniversary also saw Mediapart publish its accounts and set out its plans. We did this at a press conference held on March 6th and this blog covers the key elements of that presentation. You can download our brochure published for the occasion here.
Ten years, it's not enough!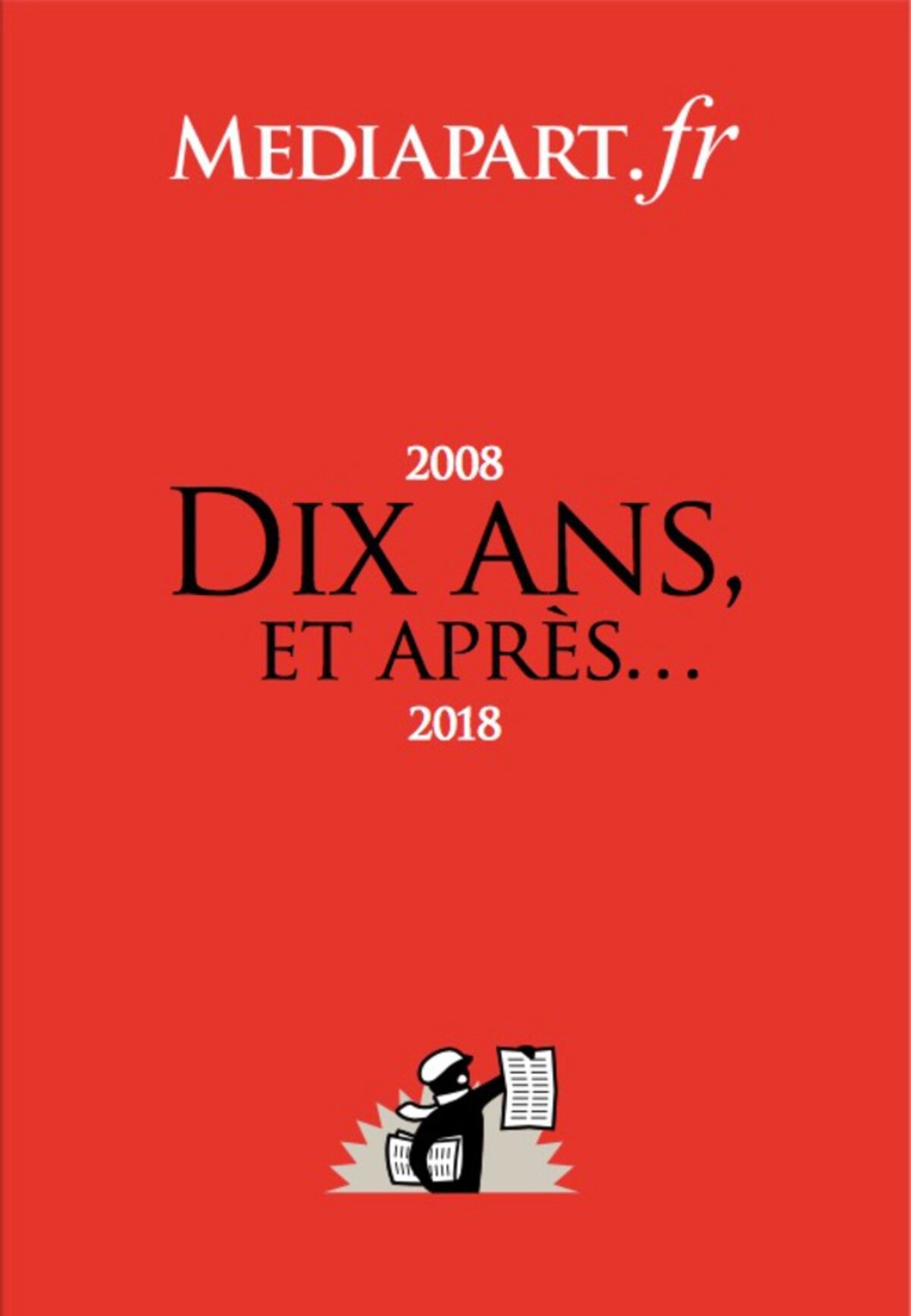 Mediapart celebrated its tenth anniversary on March 16th, 2018. This tenth anniversary falls in the same year as the fiftieth anniversary of the events of May 1968 in France, a period when young people were out on the streets crying: "Ten years, that's enough!". The message was addressed to the ageing, worn-out government under President Charles De Gaulle. In contrast, however, our battle-cry after a decade in existence could well be: "Ten years, it's not enough!". For there is so much to do, so many battles to be fought, so many victories to consolidateand so many challenges to take on.
At the end of December 2010, two-and-a-half years after its creation, Mediapart inaugurated its citizens New Year's message with Stéphane Hessel who, in that same year, had published his book 'Indignez-vous!' (published in English as 'Time for Outrage!'), a manifesto that went around the world. "To create is to resist. To resist is to create." The last words of that appeal, urging readers not to put up with or resign oneself to things, has echoes of the gamble we took ten years ago.
That was to resist the crisis surrounding the independence of the press, which has become easy prey for oligarchs, industrialists and financiers who are more interested in using it as a lever of influence than helping it to fulfil its mission of providing news that serves the public's right to know. Instead we created a totally unprecedented media outlet, one which was digital, participative and which people had to pay to read, as we sought to breathe new energy and direction into the best traditions of our profession by using the tools of the digital revolution.
The result is here, illustrated, as every year, by the publishing of this brochure which gives all our figures, our complete financial results and prospects – an exercise in transparency which has become very rare in the press. In 2017, and for the seventh consecutive year, Mediapart is a newspaper in very good economic and financial health, profitable, making money, and in credit thanks to our sole source of income – our subscribers – with a healthy cash flow and no debt.
The turnover reached 13.7 million euros in 2017, a 20% increase on 2016. The net profit after taxes is 2.2 million euros, representing 16% of the turnover, an exceptional rate in our sector. As of December 31st, 2017, the number of subscribers was 140,000, having approached 150,000 during the 2017 presidential campaign.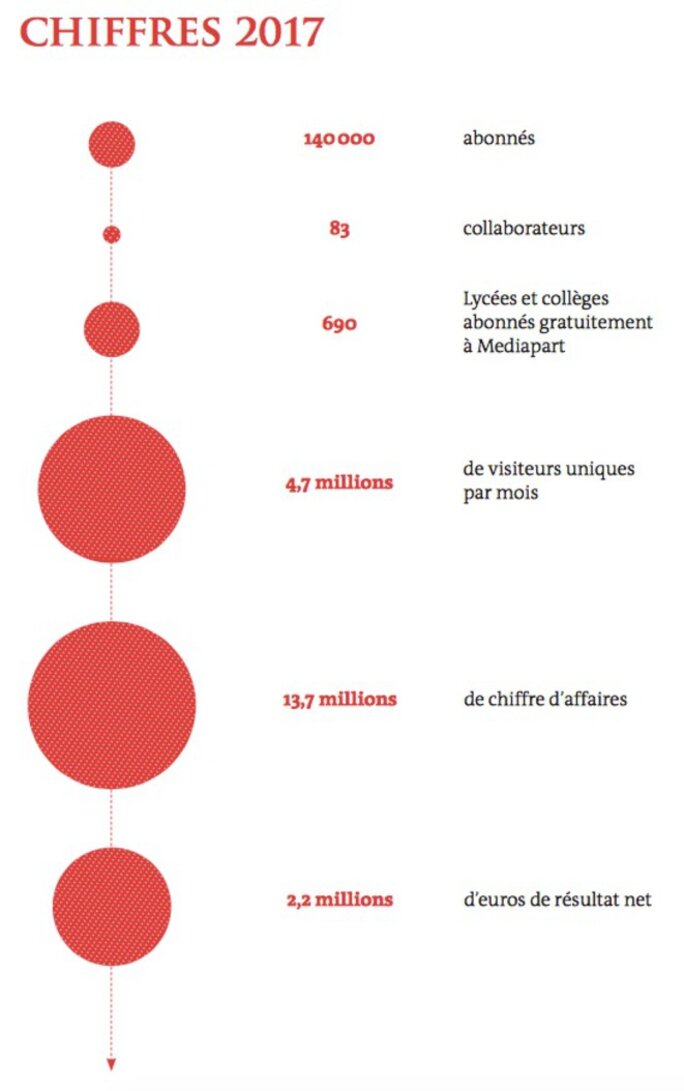 This financial performance is good news for all those who purport to report the news fairly and also good news for democracy which needs a free and pluralistic press. Based as it is solely on the support of our readers, this financial performance shows the trust that exists if journalism is prepared to defend and reinvent itself, thereby forging a new relationship of trust with the public.
Mediapart's undeniable success remains an exception in the French media landscape. And because this success is a solitary one, it is by its nature fragile – which is why it constantly needs to be reinforced and consolidated. Our newspaper exists just from the support of our subscribers, refuses any public financial aid out of principle and is not dependent on a private patron, so we cannot count on any of the help received by competitors.
One cannot but emphasise the extent to which, since 2008, Mediapart has been fighting on unequal terms, faced with other daily political and general news outlets. Between them the billionaires who own these titles (in particular Bernard Arnault, the recently-deceased Serge Dassault, Patrick Drahi and Xavier Niel), who are not in any way news-based industrialists, as well as a bank (Crédit Mutuel), pocket half of all the state aid given to the press in France. As we pointed out on Mediapart on February 13th, 2018, in an article by co-founder Laurent Mauduit, in addition to this public money there is also the private money going to those same oligarchs from those great oligarchs of the digital world – Google, Facebook and the Gates Foundation.
No one should therefore be under any illusions about our success. The hardest part is ahead of us: not resting on our laurels, re-evaluating ourselves, attracting new readers, keeping the old ones, convincing them of the point of supporting Mediapart especially because of the fact that it causes upset and thus faces greater adversity. In short, we must keep challenging ourselves to avoid the risk of torpor that is peculiar to new ventures that become too safe or too self-satisfied.
Finally, the time has come for the transition which will see the passing of the baton from one generation to another, between the founders of our newspaper and the team that runs it, takes it forward and represents it. For over and above this newspaper itself, the invention of Mediapart concerns the financial independence of the press. Will we manage, as we want, to protect Mediapart's capital in such a way that it can never sold or bought? And will we succeed in using this venture to contribute to the pluralism of news? That is precisely what is at stake in the years to come.
Mediapart 2017 in figures
Mediapart's excellent performance in 2017 is obviously linked to a particular context: the abundance of news associated with the presidential election campaign.
>Turnover and number of subscribers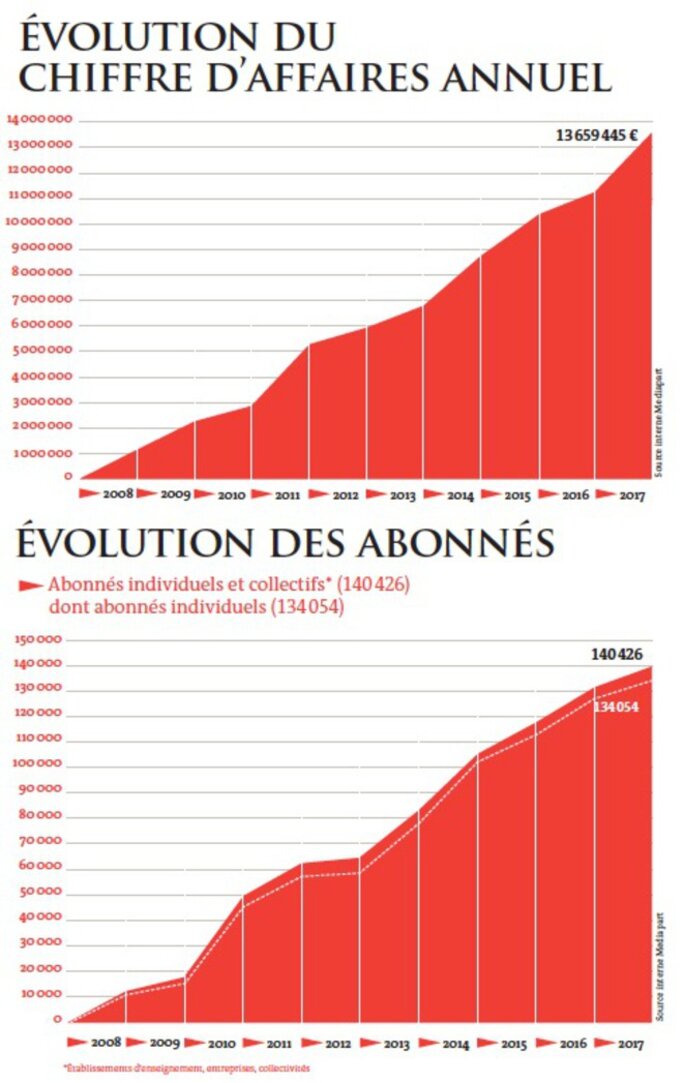 >Current result and net result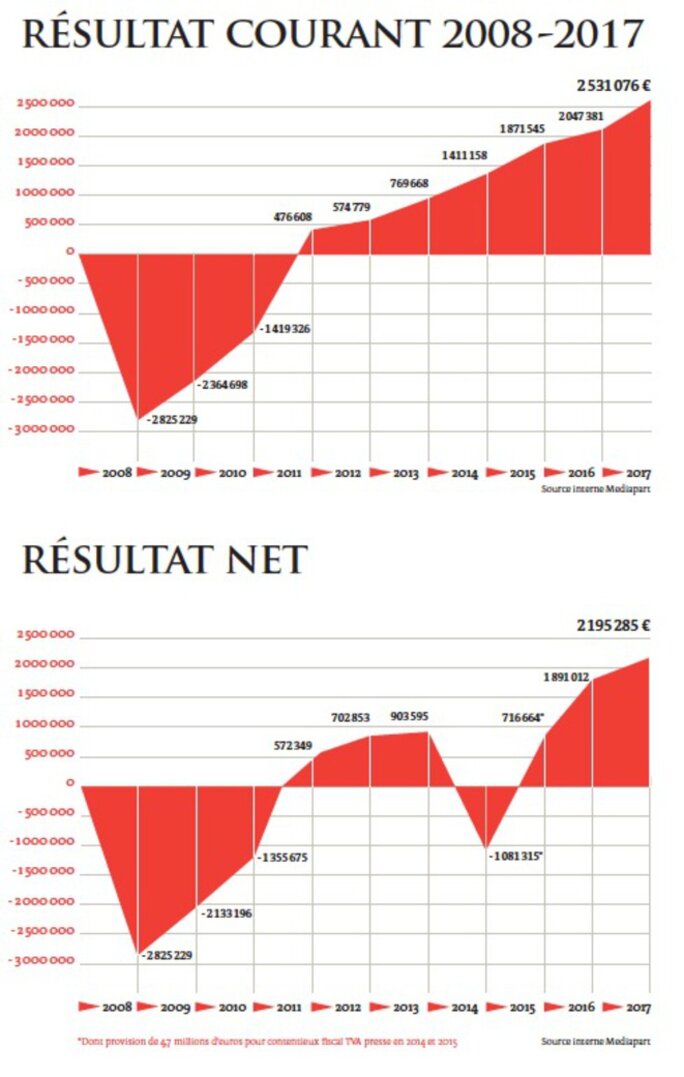 >The 2017 accounts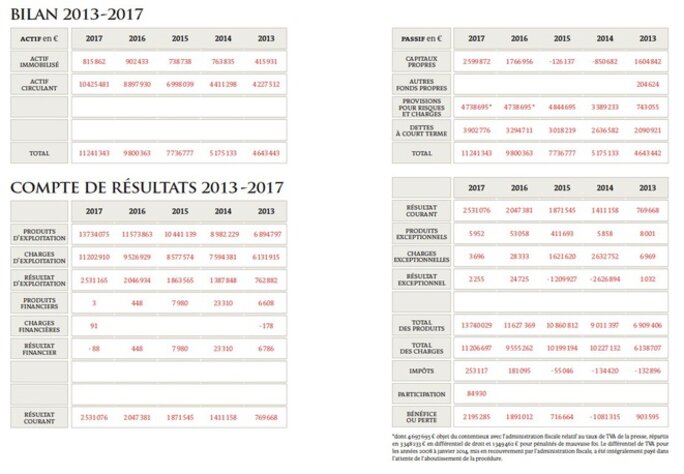 >The shareholders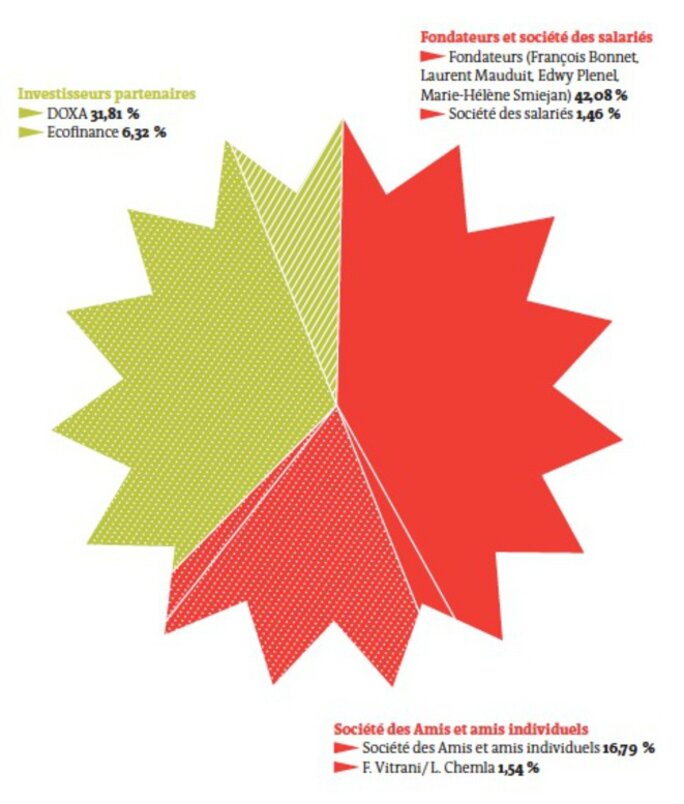 Since December 31st, 2016, and thanks to its strong results, Mediapart's capital structure has evolved towards a reinforcement of its independence with the buyout of part of the stake belonging to one of our longstanding shareholder partners, Ecofinance. Following that, 62% of Mediapart's capital is now held by a block of independence represented by the founders, staff, the "société des amis" shareholder group and individual "ami" shareholders.
Consolidating Mediapart's independence
Apart from editorial developments, including the weekly resumption each Wednesday of a live broadcast by Mediapart – a prelude to MediapartTV – here are the main internal events at Mediapart that have taken place or are to come:
>An Ethics Charter
In compliance with the November 2016 law 2016-1524 which aims to reinforce the freedom, independence and pluralism of the media, Mediapart has adopted an Ethics Charter drawn up in conjunction with the Société des Journalistes (SDJ). This can be found at the bottom of each page ('Charte déontologique') between 'Mentions légales' and 'Charte de participation'. Here is the start of the charter:
"Mediapart is an independent press enterprise founded by journalists and whose editorial director is a journalist. Its mission is to serve the right to know and freedom of speech, respecting the truth of facts and the plurality of opinions. News being the core of its profession, the values that inspire this Ethics Charter aimed at journalists commits all those who take part in its activities, its employees, its managers, its shareholders. The same applies to the three reference texts which it claims adherence to and includes, and which are reproduced in the annex (the Charter of Professional Obligations, 1918; Munich Charter 1971; the Appel de la Colline, 2008.
"A financially independent newspaper, Mediapart's sole resource is its readers' subscriptions. It does not accept any advertising revenue, does not take any public aid and is not dependent on any private patron. Its non-journalist members (member of its 'Sociéte des Amis' or individual investors) undertake to guarantee the editorial team's complete independence. They refrain from intervening in editorial decision or the way news is handled. Mediapart's management undertakes to protect the journalists from all pressures coming from financial partners, public authorities, and political, union or religious organisations."
>A new editorial management team
After ten year in his post, co-founder François Bonnet has decided to pass the baton to the following generation. As provided for in the statutes of Mediapart's Publishing Society, the editorial team was invited to decide on the choice proposed by our newspaper's director (see here). This was a joint team with equal status: Stéphane Alliès, aged 39, and Carine Fouteau, aged 43.
"You can't seriously purport to be able to carry out this role properly for more than ten years," said François Bonnet during this handover, as he invited our collective group "to rid themselves of any 'automatic thoughts'. It's that which lies in wait for any newspaper and any collective group at the end of ten years of work: routine, reflex reactions, a capacity for indignation and curiosity that is progressively blunted, automatic pilot, even falling asleep and forgetting about radical choices. In summary, that awful conformism that pervades everywhere and often makes us despair of some of our colleagues (we're thinking of those battalions of 'commentators' who endlessly do the rounds of the radio and tele
>Transferring and protect the capital
Mediapart's co-founders have undertaken to pass financial control of Mediapart to its team in an innovative fashion, ensuring that the enterprise cannot be bought or sold. This innovative method could be accompanied by the creation of a not for profit organisation dedicated to the defence of press freedom and the promotion of pluralism in the press. Among the legal options that have been studied, apart from that of a cooperative society, this innovative approach might take its inspiration from endowment funds. Established by legislation in 2008, and originally created for the world of culture, they aim to support and protect causes in the general interest.
>A centre for freedom of information in Paris
As part of a call for innovative plans from city hall in Paris, the Ville de Paris, Mediapart is taking part in the Le Transfo - Maison des médias libres project. Its aim is to create a democratic space devoted to the freedom of the press, which will house exhibitions, training, workshops, conferences, screenings, debates and meetings. For nowhere in Paris or indeed in France as a whole is there a public place that embodies this fundamental freedom.
Combining resident media and media users, this public arena for the exchange of information based on journalism will also be a place of training to tackle the challenges of the digital revolution, aimed at youngsters at school as much as existing professionals. This project arose from a meeting between a patron (Olivier Legrain) and around 20 independent media outlets, and with backup from ETIC-Foncièrement responsible – which supplies office space for groups promoting social change – this project champions an ethical vision of the economy, where profit must first of all benefit the public interest.
Two books to feed debate
On the occasion of Mediapart's tenth anniversary I have tried to draw the lessons from this unprecedented and unlikely venture in La Valeur de l'Information ('The Value of Information') published by Don Quichotte. Its publication was accompanied by the republishing by Seuil of a pioneering work fifty years after its first appearance in 1968: La Presse, le Pouvoir et l'Argent by journalist Jean Schwœbel for which I have written the foreword.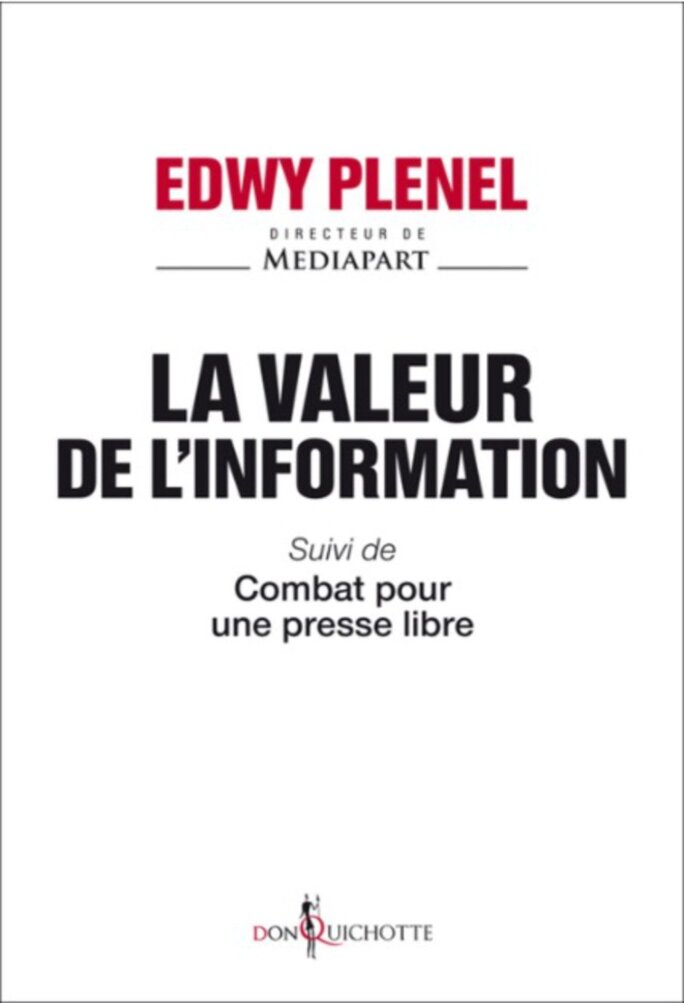 "The young and brief history of Mediapart belongs to that desire by many citizens to resist the retrograde steps which favour the strongest and the wealthiest. I wanted to draw some useful lessons from all that goodwill which was searching for ways to reconstruct the media ecosystem in a democratic way by inventing new responses to the crisis of independence and the quality of news. I'm proposing to explain this path of resistance by focusing on all the dimensions of the word 'value'; the value of democracy, the value of a profession, the value of participation, the value of the public, the value of an enterprise and so on. Through championing the value of news we serve the general interest, by bringing lasting solutions to the crisis in the news sector as it confronts the shock of the digital revolution." Published by Don Quichotte, 250 pages, 18 euros.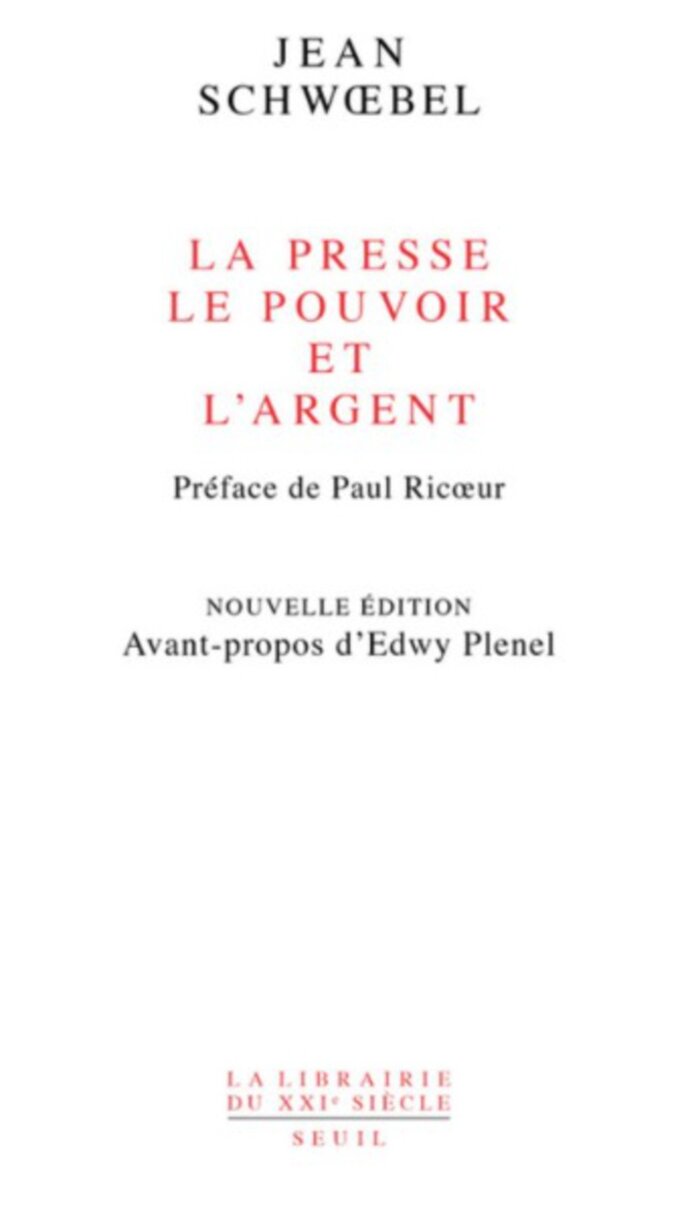 "Sometimes the press does not get a good press. That was the case 50 years ago during the events of May and June 1968. At the time we saw posters produced by printing studios that were as inventive as they were militant, and which left no room for doubt. One showed a bottle of poison accompanied by this warning: 'Press Don't swallow'. Another delivered a merciless verdict: 'The whole press is toxic'. Yet at the same time you could find in bookshops a book which contradicted this uniform vision of a silenced press and servile journalists. That book is this one here, La Presse, le Pouvoir et l'Argent ('The Press, Power and Money') written by Jean Schwoebel, and published by Éditions du Seuil in that spring of 1968. The new edition of this pioneering work highlights the current relevance of a tradition, that of editorial teams fighting for the capitalistic independence of their media." Éditions du Seuil, 350 pages, 23 euros.
Postscript:
To mark Mediapart's tenth anniversary I was invited on the morning show of France Inter radio on March 9th, and France Culture radio on March 10th, then on the Grandes Gueules talk show on RMC radio on March 13th, and on the On n'est pas couché television programme on France 2 on March 17th. You can listen to or watch them here: