Launched on March 16th 2008, Mediapart makes public all the details of its finances on the occasion of each yearly anniversary, in the form of a press conference and a presentation to its readers. In 2016, the total number of subscribers to your online journal exceeded 130,000, when its turnover rose by almost 10% and net earnings represented more than 16% of turnover, while the number of permanent staff climbed to 74. 
On Thursday March 9th, Mediapart gave a full presentation of both its financial accounts and its new services during a press conference held at our offices in central Paris. The event, attended by about 30 journalists, was also broadcast live on Facebook (and can be replayed here). This exercise in transparency is quite exceptional among media organisations.
Mediapart's partner site in Spain, InfoLibre, conducted a similar presentation (which its editorial director, Jesus Marana, reports on here, in Spanish), when it announced that, four years after its creation, the number of subscribers had grown by 31% and that, for the first time, subscriptions were now its principal source of revenue.
As is the case every year on its anniversary, Mediapart this month published its red brochure presenting the latest information about the progress of the site, including its financial accounts and most recent innovative projects, and which can be downloaded here :
2008-2016 Nine years of independence (pdf, 2.1 MB)
(while a summary of last year's presentation can be found here). An english version of the brochure can be downloaded here
Mediapart, 2008-2017, News starts here (pdf, 2.3 MB)
Below is the introduction to this year's brochure, along with graphic illustrations of the key figures, and also, for the first time, a summary of legal cases involving Mediapart. To celebrate our 9th anniversary, and to invite a wide number of people to discover Mediapart's coverage of this year's French presidential election campaign and its many unforeseen developments, we have launched a special subscription offer, available until March 31st, of 11 euros for three months of unlimited access to all the site (available here).
NOTHING WILL HAPPEN AS PREDICTED
The hashtag#RienNeSePasseraCommePrevu (which can be translated as NothingWillHappenAsPredicted) became Mediapart's "watchphrase" in 2016, as campaigning for the 2017 French presidential elections was just beginning. While most professional political observers, who are used to freezing the future in the shape of their prejudiced vision, were readying for a repetition of an old, dog-eared script, notably a battle between François Hollande and Nicolas Sarkozy, with Marine Le Pen lying in ambush, we at Mediapart placed our bets on an unforeseen and novel scenario.    
That projection, which has since been confirmed by the political hecatomb of the socialist primaries and the devastating effects of political scandals, together with the electoral catastrophe in the United States, was based on a documented perception of the profound crisis – democratic, ecological, social and cultural, and more still – that is shaking our societies. But our view was also rooted in our collective experience as a journal which, since its creation in 2008, has always swam against the tide of prevailing certitudes.
Mediapart, which was last autumn awarded "Title of the Decade" at the French 'Future Press' media fair, has not only proved wrong those analysts who did not believe in the economic model of a digital press financed by subscriptions. It has also shamed those who questioned the place of the tradition of quality journalism with the advent of the digital revolution, they believing only in short and ephemeral content, immediacy and fast flowing items, the buzz and the zapping, commentary and entertainment.
Mediapart chose the opposite approach: that of rich and in-depth journalism, using all the potential of the digital platform to strengthen and defend the very best of our professional values. Consolidated by its performance in 2016 – with a sixth consecutive year in profit and a 10% growth in turnover, a 10% rise in the number of subscribers and a net income of 15% of turnover – Mediapart's economic success is first and foremost testimony to its editorial model, the contents of which have expanded continually.
Journalism, more journalism, and nothing but journalism: there is no other formula than this resolute credo, serving the right to know of citizens, and which develops a relationship of confidence with a demanding, pluralist and participating public. This implies never having the pretention to write history in advance, but instead to remain attentive to the unexpected that it harbours, to those events whose emergence disrupts our habits and comforts, our certitudes and prejudices.
MEDIAPART IN 2016 IN FIGURES
In 2016, the total number of subscribers to Mediapart exceeded the landmark figure of 130,000 (individual and group subscriptions), of which 126,000 were individual subscribers. The regular, constant growth of Mediapart continued through the year with an increase in turnover of 9.4% to reach a total of more than 11 million euros, while net earnings were almost 1.9 million euros, representing more than 16% of turnover.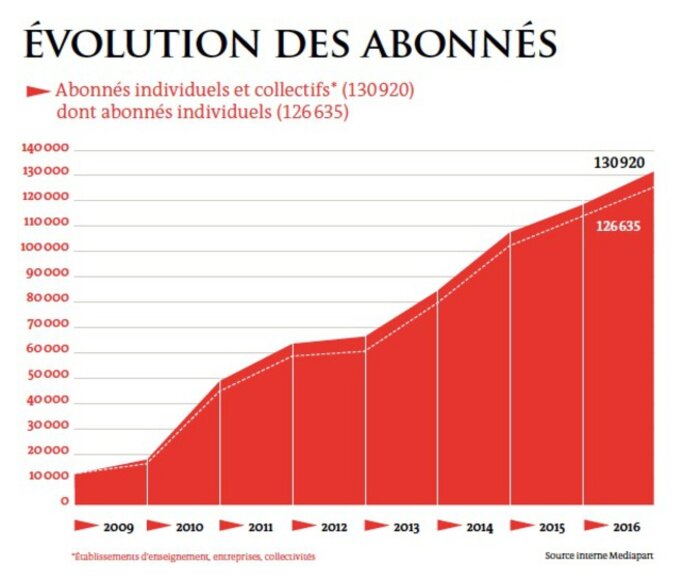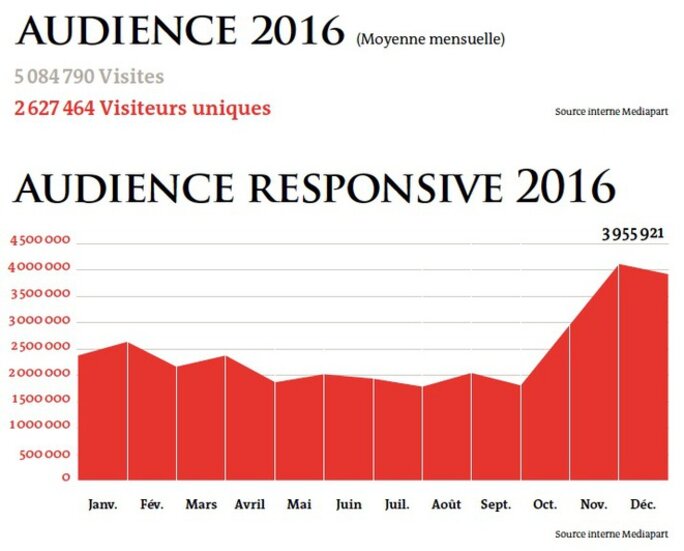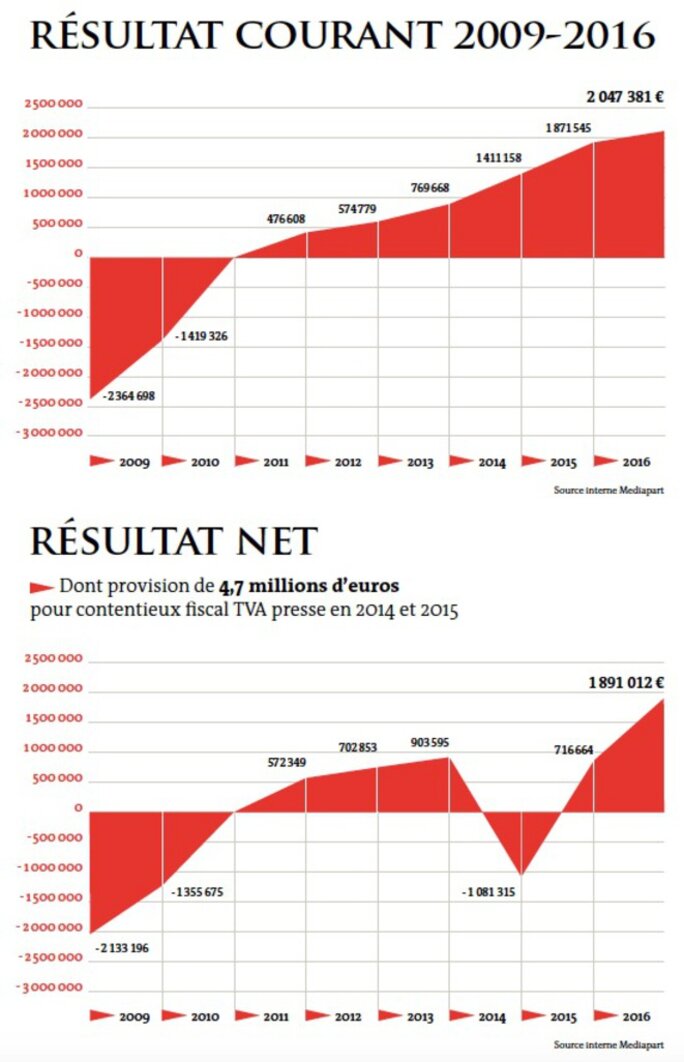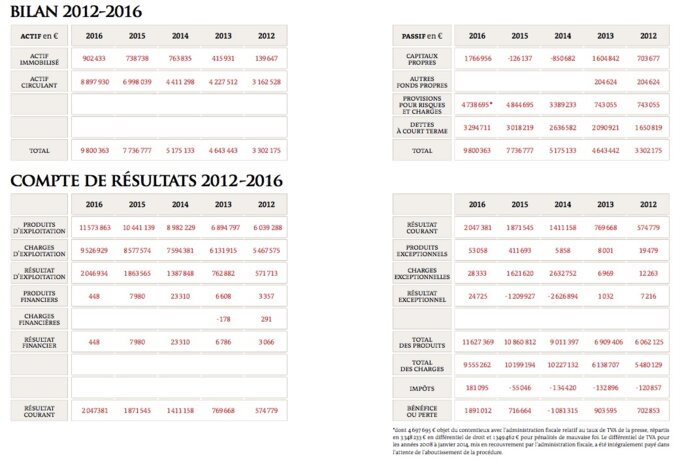 Since December 31st 2016, thanks to these results, Mediapart's capital structure has evolved towards a reinforcement of its independence with the buyout of part of the stake belonging to one of our longstanding shareholder partners, Ecofinance. Following that, 62% of Mediapart's capital is now held by a block of independence represented by the founders, staff, the "société des amis" shareholder group and individual "ami" shareholders. Because the move occurred in early 2017 it is not reported in the brochure presenting our 2016 results.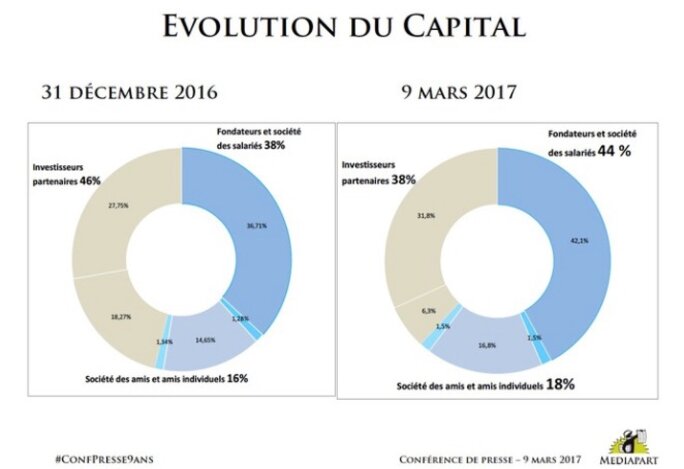 LEGAL ACTION INVOLVING MEDIAPART
Mediapart is regularly called upon to defend itself in court, which is part of the price of independence because we are of course not above the law. Our defence is mounted within the framework of a law dated July 29th 1881 which established the freedom of the press in France and which introduced the protection of the right to information. On average, the legal procedures involving Mediapart cost us an annual 150,000 euros, although this can vary from one year to another. 
Apart from presenting the facts, which are founded on proof (which we demonstrate on every occasion possible), the Mediapart editorial team fight legal action against it on the basis of "acting in good faith" – an argument that is founded on four cumulative conditions: the legitimacy of the aim of the reporting (that the information gained is in the public interest); the thoroughness of the investigation (which is supported by evidence), which includes seeking out a reply from those implicated by the report; moderation and caution in the report's commentary (that the article is not of a polemical nature) and the absence of personal animosity (meaning that the journalist is not engaged in a personal or private attack against others).
Our legal representation is managed by lawyers Jean-Pierre Mignard and Emmanuel Tordjman, from the Paris-based legal practice Lysias Partners. They have acted as our lawyers ever since the launch of Mediapart in March 2008. By mid-February 2017, the practice has handled 97 cases concerning Mediapart and its editor-in-chief (any one case can involve several legal actions, including against the journalist(s) responsible for the report cited in the case).
Until now, only three convictions for defamation have been upheld against Mediapart. The first of these concerned a material error that has since been rectified. A second concerned the insufficient time that was given to an implicated party to respond to the findings of a report, while the third was because of the rectification of remarks made in an interview. The oldest of the three articles cited dates from 2010. On top of these, Mediapart was found guilty of not publishing a right-to-reply response to an article within the legally-required period, but this verdict is not definitive since Mediapart has appealed the ruling and the process is ongoing.       
Another 69 cases against Mediapart have resulted in their definitive dismissal (for reasons including non-guilty verdicts, the withdrawal of the plaintiff's action, and the nullity and inadmissibility of the legal action engaged). Of that total, a hardly insignificant number appear to indicate that legal action was launched against us more as an exercise in communications than to obtain justice: in 28 cases, those who launched legal proceedings against Mediapart abandoned and/or withdrew their action.
Mediapart is currently a defendant in 25 ongoing cases where a definitive ruling has not been reached. They include some in which an initial ruling was made in favour of Mediapart but which are now to be heard on appeal. Notably among these is the acquittal of Mediapart at a trial in Bordeaux when it was accused of invasion of privacy over its reporting of the Liliane Bettencourt scandal. The public prosecutor has appealed against the acquittal verdict. Also concerning the Bettencourt case, Mediapart has brought legal action before the European Court of Human Rights (the ECHR) to overturn the censorship ordered by French magistrates of details of secret recordings revealing the corruption scandal and which were first published in 2010.
> The original French version of this post can be found here, and a version in Spanish is available here.

(English version by Graham Tearse)